The endowment fueling Indiana's leading historic preservation group took a huge hit during the market slump, but executives believe they can still afford to take on a project that will broaden their mission.

Historic Landmarks Foundation of Indiana, recently renamed Indiana Landmarks, announced April 13 that it wants to set up shop in the Old Centrum, turning the historic church at 12th Street and Central Avenue into a cultural events center.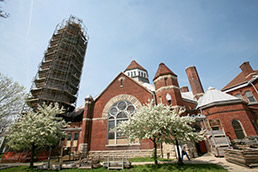 The Old Centrum church will become Indiana Landmarks Center. (IBJ Photo/ Perry Reichanadter)
Founded in 1960, Indiana Landmarks is the largest statewide preservation group in the country, with 8,700 members. Yet President Marsh Davis said recent market studies found the public at large doesn't understand what the organization does.

"We're not as well-known as we think we ought to be," he said.

He thinks that through attending concerts, or do-it-yourself preservation workshops at the Old Centrum, people will come to understand the mission, which has evolved from saving singular, old buildings to neighborhood revitalization.

"We want to reach out to a broader community and bring audiences to us," Davis said.

Indiana Landmarks has aided preservation efforts in nearly every corner of the state. With 42 employees in 10 offices, it draws much of its financial firepower from an endowment established by Eli Lilly. The endowment hit a peak of $50 million in the fall of 2008. At $36 million, it still faces a long recovery.

The endowment provides about two-thirds of Indiana Landmarks' operating budget, which is $3.6 million in the fiscal year ending Aug. 31. The organization managed to avoid drastic staff cuts during the recession, but Chief Financial Officer Mary Burger said it's trying to become less reliant on endowment revenue.

Moving to the Old Centrum will require more fund raising, and its ongoing operations will require more staff members. Davis said he hopes that with a mix of private events and cultural programs, the operation will become self-sustaining.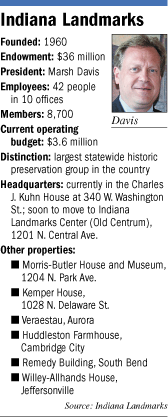 "We wouldn't venture into something that's going to be a drain from our overall mission and program," Davis said.

Bringing back the Old Centrum, the former Central Avenue United Methodist Church, is a $10 million project. Billionaire Hoosier Bill Cook, along with his wife Gayle and son Carl, are paying for and managing most of the work.

Bill Cook, the founder of Bloomington medical-equipment manufacturer Cook Group, estimates he'll spend at least $7 million. The work includes restoring the metal domed roof that's visible from Interstate 65, stained-glass windows and a pipe organ.

The spectacular domed sanctuary, built in 1892, would become a 500-seat "Cook Grand Theater." The 80,000-square-foot building also includes a Sunday school wing with a stage area that's known for great acoustics, thanks to a wood-paneled ceiling.

Indiana Landmarks wants to put its headquarters in a 1922 addition to the church buildings, but first must raise $2 million to $3 million. The group is counting on the sale of its current headquarters, a restored Italianate house on the Central Canal, to create a maintenance fund for the Indiana Landmarks Center.

Dea Andrews, a longtime preservationist in South Bend, thinks Indiana Landmarks needed to become more accessible. People tend to see the organization as "pure preservation," she said. "And they're viewed as a little bit elite.

"It's important for people who aren't purists to have a place to go."

But Andrews, assistant to the executive director at the South Bend Heritage Foundation, added that she's surprised to see the statewide group taking on so much change at one time.

"I feel pretty strongly, changing their name, they're going to lose some of the very good reputation they've developed," she said.

Andrews added that she hopes Indiana Landmarks is prepared for its foray into event management.

"It is quite a different direction for them to take," she said. "I hope they understand the workload and the mind-set."

Indiana Landmarks hired locally based Development Concepts Inc. to craft a business plan, Davis said. He expects to hire one or more staff members to run the venue when it's fully operational.

Cook expects to have the Old Centrum project finished by year-end, but it could take Indiana Landmarks longer to complete its fund raising and sell excess property. Along with the headquarters at 340 W. Michigan St., the group wants to sell the Kemper House, a former central region office on Delaware Street.

Given the battered real estate market, Davis said it's anyone's guess when those properties might sell. He said informal estimates place the value of the headquarters, the Charles J. Kuhn house, at $2 million to $3 million, and the Kemper house at $350,000 to $400,000.

Indiana Landmarks' operating budget does not include its real estate programs. It uses revolving real estate funds to buy and stabilize endangered properties, then sells them, typically at a loss, to entities willing to finance the restoration.

The real estate funds took write-downs in 2009 because some properties didn't turn over, Burger said.

Indiana Landmarks also makes zero- or low-interest loans to local preservation groups. That's how it became involved with the Old Centrum. The Romanesque Revival building closed in 2008 after maintenance became overwhelming for a local foundation.

Indiana Landmarks also owns several properties around the state. Executive Vice President Tina Connor said not all of them have their own maintenance funds, something the organization now requires before it will consider adding a property to its own portfolio.

The group also has become more cautious with its revolving funds. Connor said it's looking to stabilize properties while lining up a permanent buyer, thus avoiding taking ownership.

Burger said there could be more changes to Indiana Landmarks operations, but it's not ready to make them public.

"Chances are we will need to look at boosting the financial viability of some programs," she said.

Bill Taft, executive director at the Local Initiatives Support Corp., which works with various neighborhood turnaround groups in Indianapolis, predicted that Indiana Landmarks supporters will back the new project.

"They have a history of taking on projects that are pretty unusual," he said. "Look at West Baden." Indiana Landmarks championed the West Baden Springs Hotel before Cook entered the picture and poured in $34 million.

Taft takes the Old Centrum project as a sign that Indiana Landmarks is turning its focus back to Indianapolis, where in the 1980s and 1990s it sparked the rebirth of neighborhoods like Lockerbie and Chatham-Arch. He hopes the group will use its assets to help the city overcome the burden of about 10,000 vacant houses.

"A high number of those are in historic neighborhoods," he said.

Davis said he has a couple of goals for Indiana Landmarks' new chapter. One is to establish a permanent office in Evansville, where a staff member currently works from home.

The other is to begin pushing to raise or eliminate limits on the state's historic preservation tax credit. In other states, the credits are a leading incentive for private developers to reuse old buildings.

"Indiana has the worst tax credit program in the country," Davis said. "I think this would open the floodgates for projects."•