Instead of making hay with the $1 billion airport terminal that opened in its back yard, the Hendricks County Convention
and Visitors Bureau is making lemonade.
The local CVB has shelved its plan to attract a full-service hotel and conference center and instead will boost its spending
on marketing the suburb as a tourist destination.
Executive Director Emory Lencke said the CVB effort will focus on persuading travelers to spend an extra night in the county.
Instead of leaving town after a day watching drag races at O'Reilly Raceway Park or visiting relatives—two of
the top reasons people visit Hendricks County—perhaps travelers will check out Chateau Thomas Winery, Beasley Orchard,
or a small-town fish fry.
After a devastating year, hotel managers "just want travelers," Lencke said. "They want people who are
willing to book a night. That's industry-wide."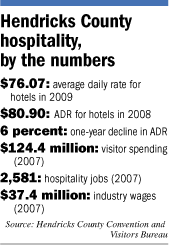 The CVB is in the process of developing a $749,500 marketing plan, more than the
agency has spent in the last two years. It's also hired a new agency, Indianapolis-based MZD, to help with strategy
and ad placement.
As recently as December, Lencke hoped to draw a 200-room, full-service hotel with meeting space to a site at Interstate 70
and State Road 267. The site is outside the front door of Indianapolis International Airport, which opened its new terminal
in November 2008.
The CVB issued a request for proposals, but Lencke said he didn't receive any qualified bids.
Although Lencke adamantly wants to see Hendricks County land its first full-service hotel, he said he's not sure when
the CVB will take another pass at the project.
"The current economic conditions keep telling us we need to get through 2010 before we decide which way we're
going to go," Lencke said.
When the new terminal was being planned, Hendricks County's hospitality industry certainly didn't expect to have
to fight for every last travel dollar. But the global recession hit just as the terminal opened.
Traffic from passengers boarding and leaving planes at Indianapolis International dropped from 8.15 million in 2008 to 7.5
million last year, an 8-percent decline, according to the Indianapolis Airport Authority.
The airport closed the top floor of its new parking garage because it was underused, and now is looking for ways to boost
non-passenger revenue.
Lencke had hoped for a much different scenario. Hotels and motels in Plainfield near I-70 and S.R. 267 were eager for an
influx of new business travelers, and all travelers would have benefited from competition among new lodgings and existing
hotels near the old terminal in Marion County.
"It would've been the best of all worlds for business and leisure travelers," he said.
Travelers certainly are finding deals, but that's only if they have money to spend in the first place. As with most
markets, average daily rates in Hendricks County dropped last year. The rate, which is total hotel revenue divided by the
number of rooms, fell 6 percent, from $80.90 to $76.07.
Lodging consultant PKF Consulting expects 2010 to look much like last year for the hospitality industry. Robust growth might
return in 2011 and 2012, but pre-recession levels of business wouldn't return until the following year or 2014.
"We've fallen so far," said Mark Eble, PKF's managing director in Indianapolis. "This is the
deepest hole we've fallen into in my career."
Eble noted that Hendricks County is courting the same penny-pinching leisure traveler as many other communities near Indianapolis.
"It's an uphill battle, and it's particularly scary when you've got Hamilton County or Marion County,
which are absolutely loaded for bear."
For a smaller market, Hendricks County enjoys a relatively high hotel tax, 8 percent. Most of that, 6.5 percent, goes to
CVB coffers to be spent on marketing. The agency's overall operating budget, including marketing, is $1.8 million this
year.
County hotel tax revenue fell from $1.6 million in 2008 to just under $1.4 million last year. Meanwhile, the CVB held back
spending on marketing. The agency had budgeted $850,000 in 2009 but spent only $584,000.
Lencke said the CVB is ready to loosen the purse strings. "That's our goal for 2010 and beyond."
Brandy Dixon, general manager of the Hampton Inn in Plainfield, is one manager not disappointed by the delay in bringing
a full-service hotel and conference center to Hendricks County.
She thinks such a development would draw business travel away from the cluster of limited-service hotels and motels near
I-70.
Business travel now accounts for an even larger part of the revenue, perhaps 80 percent, than it did before the recession,
Dixon said. The CVB's general-destination marketing doesn't seem to have much impact.
"We never benefit from it," she said. "There's such a large mix of hotels—leads go everywhere."
Hendricks County visitors tend to stay with friends or relatives, or camp at Raceview Family Campground, said Jaime Bohler
Smith, associate director of the CVB. However, those who do stay at hotels and motels account for one-third of visitor spending,
which totaled $124 million in 2007.
The CVB aims to increase visitor spending 3 percent by 2011. One way to do that is by marketing group travel. Capitol Sports
Center in Plainfield is a major destination for volleyball teams.
Hendricks County also is trying to snag more motorcoach tours. O'Reilly Raceway and the headquarters of John Force
Racing already are popular tour stops. The CVB also offers a "Green Spree," which includes a tour of a landfill
and stops at Beasley Orchard, the winery and Burnett Woods nature preserve.
Michael Tinsley, manager of The Coachman Restaurant and Lounge in Plainfield, said the restaurant thrives on pass-through
traffic, whether folks are stopping for the night as they travel I-70, or visiting the races at O'Reilly.
But he thinks Hendricks County could use more entertainment and attractions. For his crowd, a driving range would fit the
bill.
"There's a lot of traveling businessmen who like to hit golf balls," Tinsley said.•
Please enable JavaScript to view this content.