Ever wonder why that dining hall food from your college days wasn't appetizing?
Turns out that, with a little tweaking, what it was fried in can power a diesel engine.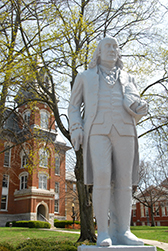 Students aren't the only ones fueled by Franklin College's cafeteria. Tractors are filled with diesel
made from fry grease. (Photo Courtesy Franklin College)
Franklin College freshmen Jimmy Qualters and Drew Royalty took the idea to the college's "Green Team" and
sought out the used fryer oil in the college cafeteria.
Lesser institutions would have gone out and purchased a commercial kit that converts old fryer oil into diesel. But professors
steered the students to chemistry students Marianne Tolmachoff and Latherine Walke, who came up with their own process to
convert the goop to fuel. Sure enough, it powered a campus tractor.
The college uses 1,500 gallons of diesel a year, which may be more than it can get from the cafeteria fryer.
Such "greening" applications helped earn Franklin College the Indiana Governor's Award for Environmental
Excellence in 2009.
Please enable JavaScript to view this content.