CARMEL—Thirteen years after Mayor Jim Brainard first described his vision for a new downtown along Range Line Road, Carmel City Center is starting to look like a city.

The crown jewels of Brainard's vision—the $118 million Center for the Performing Arts and a $200 million high-rise development along City Center Drive between Range Line Road and the Monon Trail—finally are taking shape.

The first phase of the high-rise, downtown portion of City Center is on schedule to open this summer, complete with apartments, condos, retail shops and office space. And the developer, locally based Pedcor Cos., is working on financing for the next three phases, which would add a hotel and more retail, office and residential space.

Meantime, a marketing campaign introducing the 1,600-seat Palladium at the Center for the Performing Arts is under way, with a grand opening set for January.

Getting the project this far hasn't been easy. Challenges range from court battles to control the properties that would become the Monon Trail to questions from city councilors about whether the Carmel Redevelopment Commission and Brainard are jeopardizing the city's future—and risking crippling tax hikes—by borrowing millions to enact the vision.

"I would love to wave a wand and see it all done," Brainard said. "That's why we have sprawl in this country—it's much harder to do redevelopment. But over time taxpayers will pay a much higher price to maintain infrastructure than those who redevelop their urban cores."

Growing price tag

A few years after Brainard took office in 1996, the city borrowed $13 million to buy 88 acres including farmland and a former grocery store with plans for a bustling mix of offices, homes, retail stores and performing arts venues.

As proposed at the time, City Center was a $77 million project. The price tag today: at least $500 million, and growing.

The City Center plans are part of a larger, master-planned effort to redevelop downtown Carmel, including a new Midtown and the Carmel Arts & Design District to the north. The Civic Plaza, complete with City Hall, fire station and police headquarters—built in the 1980s—sits immediately to the south.

Leasing activity for the first phase of the Pedcor portion has "increased dramatically" in the last few months—an encouraging change from last year—as weather improved, credit markets thawed, and the massive project began taking shape, said Bruce A. Cordingley, president and CEO of Pedcor Cos.

The company has taken reservations for roughly one-third of the 64,000 square feet of retail space, is talking to a professional services firm interested in the entire 18,000 square feet of office space, and has sold four of the 15 condo units ranging from about 1,000 square feet to a 3,500-square-foot penthouse.

The first residents and tenants will move in later this summer. Meantime, Pedcor is zeroing in on financing for a second phase with more retail and residential space, and is negotiating with a developer interested in opening a 120- to 140-room boutique hotel along City Center Drive.

Pedcor is investing more than $200 million in its portion of the project. The city has pledged real estate taxes on the project to pay for its infrastructure.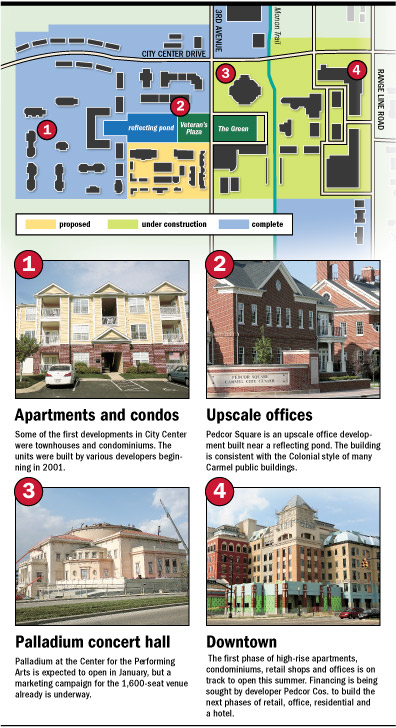 "The fact people are calling us now is a lot different than the last 12 to 15 months," said Cordingley. "It's coming together well. What used to be a farm and an abandoned grocery store is really stunning. I think it's something we can all be proud of."

Financing concerns

The Carmel City Council is generally supportive of the plans but is pushing for a more complete financial picture of the Carmel Redevelopment Commission after the independent group last year asked the council to float a $28 million bond.

The council balked at the terms, which would have had taxpayers shelling out a total of $91 million over time to pay back the loan. The council asked for a more traditional financing arrangement, but the commission said it found another way to come up with the money. That raised concerns among City Council members.

"We had no desire to get into their business until they asked for taxpayer dollars," said Luci Snyder, a council member and commercial real estate broker for Acorn Group. "Now we want to make sure if they default, we don't have to pick up the bill. We're trying to ascertain how much they have borrowed, what the debt-coverage ratio is, and how it impacts the city's rating."

From meeting to meeting, financial projections change. And the council still is getting confusing and conflicting answers to its questions, said Rick Sharp, council president. The worst-case scenario involves a tax increase to make up the difference—a luxury businesses don't enjoy.

"Those of us in the business world have to deal with the revenues available to us because we can fail," Sharp said. We cannot allow ourselves to be content with assurances that everything's all right and nothing's going to happen."

Long wait

The wait for City Center has been long and maddening, particularly for Brian Shapiro, who owns Shapiro's Delicatessen, the first tenant to open at City Center. His 11,500-square-foot restaurant, which opened in 2001, sits next to a giant dirt pile from Pedcor's construction.

"Lucas Oil Stadium and Indianapolis International Airport started after the Pedcor project and they are open and ready to go," Shapiro said. "But you know, who could predict the economy? They need to recheck the master plan on what makes sense in this economy, even as we rebound."

Shapiro thinks the city will have to cut back on future phases, but he's confident Carmel can finish the project without bankrupting itself. After all, a tax-increment district that funds the project's infrastructure is stocked with relatively new commercial buildings.

"Bottom line is, Carmel has to increase density of residential units in its core area and has to generate some tourism and smaller convention business," Shapiro said. "I'm fully invested in it occurring."

The first of the City Center projects was a 350-unit apartment development in 2001. Condos and townhouses and an upscale office development surrounding a reflecting pool were added in the following years, with another office building still to come.

The population of City Center is about 600 today, Brainard said, but will be at least 1,500 once the project is complete.

"This is truly going to be a national model for creating a downtown in a suburban city," Brainard said.

But hurdles remain.

"I think City Center is a wonderful thing," Snyder said. "I hope that all of the money is there to complete it as envisioned."

"Now is a good time to be more fiscally prudent," she said. "We've never been in a situation like this before."•