The newest life sciences startup in Indianapolis has a decent business that provides testing services to big pharmaceutical companies and major academic research centers.

But its ambitions are far grander.

Companion Diagnostics Inc. wants to create diagnostic devices that are so simple patients could use them at home, but that also pick up signs of preventable chronic diseases even earlier than current tests done in clinics and hospitals.

Similar devices just happen to be in the sights of most every medical-device maker and pharmaceutical company these days. The idea is that tests that pick up the presence of proteins indicating disease or the presence of specific genes will help doctors know the right medicine to give to the right people at the right time.

But Companion Diagnostics wants to make devices that not merely identify when a patient already has a disease, but can also detect early warning signs of a chronic disease in time to take preventive measures.

"Our charter and our focus is preventative disease," said Richard Selinfreund, president of Companion Diagnostics.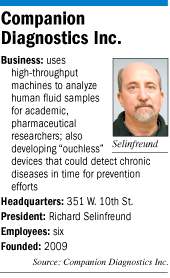 Companion Diagnostics formed last year and, in January, moved to the Indiana University Emerging Technologies Center. It imported from Connecticut $17 million in equipment that can test 10,000 samples of human fluids every day. The equipment was used by a previous company owned by Selinfreund.

Selinfreund also brought to Indianapolis his team of five people—which he recruited away 10 years ago from pharmaceutical giant Pfizer Inc. Selinfreund hopes to combine his team and his machines with a strategy that gets an edge on the competition—which includes medical equipment behemoths such as General Electric, Philips and Samsung.

Companion Diagnostics is focusing on tests that are "ouchless"—in other words, that test saliva or stool samples instead of blood. Selinfreund thinks patients will use "ouchless" tests at home at far higher rates than ones that require even a prick of the finger.

"As you start to draw blood on people, the barrier for compliance goes up really high," Selinfreund said.

Making the tests painless is a key part of Companion Diagnostics' strategy to make tests for large numbers of patients. The company has partnerships with two large companies—Japan-based Sony and California-based Life Technologies—to help it do that.

Those partnerships should be critical for Companion Diagnostics, said David Johnson, CEO of BioCrossroads, an Indianapolis-based group helping to develop life sciences business in Indiana.

"That type of relationship could obviously be very, very productive," he said. "There is continued consolidation in these lines of business, and there is continued need for scale."

Once it develops a workable device, Companion Diagnostics thinks it could partner with large pharmaceutical companies that have a drug to treat the condition the device diagnoses.

Having a test to say which patients should take a drug could allow drugmakers to sell their medicines for far more money while at the same time cutting down on bad side effects produced today when drugs are given to wide swaths of patients, and maybe one-third of them receive any benefit.

"There are strong incentives for drug and test developers to co-develop and co-launch their associated products," wrote a team of Deloitte consultants in a 2007 report on the increasing prevalence of the "convergence" of drugs and diagnostic tests.

The report noted that giant companies such as Johnson & Johnson, Boston Scientific, Roche and others are trying to develop drugs and devices in tandem. Even a smaller company, such as Bloomington-based Cook Medical, tried early this decade to develop drug-coated stents for heart disease patients, which is another example of convergence.

The most successful example of a diagnostic test helping a drugmaker was the 1998 launch of Genentech Inc.'s breast cancer drug Herceptin jointly with Abbott Laboratories' PathVysion test, which identified patients with the genetic variation that made Herceptin effective for them.

Global sales of Herceptin last year topped $5 billion.

But focusing on early detection and prevention could be an even bigger market. Estimates about diabetes, for example, suggest that 85 percent of people who have pre-diabetic symptoms have no idea they're in danger.

Selinfreund located in Indianapolis instead of the East Coast in order to have access to fluid samples from patients more ethnically representative of the entire world. Also, he said, the long-term patient studies of the Regenstrief Institute and the Fairbanks Institute mean Companion can access a bank of thousands of patient samples that are already scrubbed of any private information.

"If I say I need saliva and blood samples for people who don't have AIDS, they can send me 10,000 a day," Selinfreund said.

Companion Diagnostics has high hopes for growth. The company said in March that it plans to add 30 jobs here by 2014, paying salaries of $90,000.•