The $16.5 million worship auditorium that Northview Church in Carmel opened last month may be the last church-related project
of that size to be completed in central Indiana for several years.
The boom years brought a wave of multimillion-dollar church building projects in Indianapolis and around the country.
Some noteworthy local projects include Grace Community Church in Noblesville, which added a second auditorium and student
ministry wing in 2008 as part of a $28 million capital campaign. St. Paul's Episcopal Church on North Meridian Street
finished a $14.5 million expansion and renovation in late 2007. Holy Trinity Greek Orthodox Church built a $9 million gold-domed
church in Carmel, finished in late 2008.
"It'll be surprising if you see that again," said Tom Neff, principal at Schmidt Associates, an architect
and engineering firm that designed several church buildings a decade ago. Neff noted that many brand-new churches were the
result of suburban growth.
"A lot of churches, mine included, started out meeting in gymnasiums 20 years ago," he said.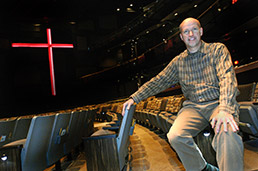 Steve
Poe, pastor of Northview Church in Carmel, says his congregation raised enough money to complete a new $16.5 million worship
hall during the recession because it continued to add new members. The church draws about 4,000 on a weekend. (IBJ Photo/
Perry Reichanadter)
Although many local projects were finished before the stock market plummeted, churches, which usually pay for a large part
of construction in cash, struggled to collect pledges. That meant they had to take on unexpected levels of debt and cut operating
expenses, sometimes through layoffs.
Last year, the Rev. Anastasios Gounaris faced the prospect of raising additional money to finish Holy Trinity's classroom
wing from a relatively small congregation of about 500 families. The work was completed last summer, thanks to some "generous,
sacrificial gifts," as well as a parishioner who donated his time as construction manager, Gounaris said.
East 91st Street Christian Church in Castleton had done $9.5 million in construction since 2006 when the recession hit. The
church had expanded its foyer and its sanctuary to hold 2,400 people, but work on a 46,000-square-foot children's wing
stopped midstream in January 2009.
An administrator at 91st Street Christian couldn't be reached for more information, but professionals familiar with
the project said it remains on hold.
Architect Kevin Callahan, who specializes in church design, said that in the two decades of his career leading up to the
recession, it seemed that "whenever the economy was down, giving was up in churches. That's the old days. I don't
see it returning to that reality."
Callahan, who moved his practice from Indianapolis to Arizona in 2003, said he saw projects around the world dry up overnight
during the global recession. A local client, Grace Community Church, put off completing its master plan, which includes a
600-seat sanctuary.
"There are rumblings in the last three months," he said, adding, "It couldn't get any slower. It
was just stopped."
S&B Construction of Indianapolis also has carved out a niche in church work, and that became even more important as the
recession hammered back other areas of construction, Business Development Director Bob Gray said.
S&B's major church client is Northview. The new hall, which seats 2,000 people, is about the same size as Clowes
Memorial Hall at Butler University, and it's packed with $3 million in audio-visual technology.
The project has prompted calls from colleges that are looking to build performing arts halls, Gray said. That's welcome
business, since church construction is trickling back slowly. Gray said he's hearing from churches again, but their
projected planning, or fund-raising, stages are months longer than before the recession.
Northview managed to raise $10.4 million in pledges and completed construction during the recession only because it continued
to draw new members, lead Pastor Steve Poe said. The church on Hazel Dell Parkway draws about 4,000 people on a weekend.
The new worship space caps years of building at Northview, which in 2004 completed three additions: a children's wing,
a beach-themed teen building, and a café and bookstore.
Northview won't stop expanding, but the next steps may require less capital. Making the most of technology, the church
has opened a satellite in Lafayette, where worshippers hear and see the same sermon that's preached in Carmel.
Poe plans to add five more satellites in a 60-mile radius around Hamilton County. The satellites have their own buildings
and pastors, but the clergy save time in sermon preparation, and the church saves on administrative costs.
"It's a very inexpensive way to plant a church," Poe said. "In the church world, that's the
way everybody is going."•
Please enable JavaScript to view this content.