General Motors Corp.'s decades-old retrenchment in Indiana has cost thousands of jobs, yet casualties have helped spawn or grow other ventures, such as electric truck visionary Bright Automotive and hybrid battery maker EnerDel.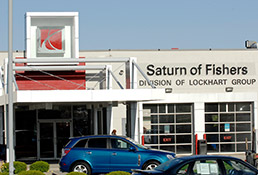 Saturn dealers had some of the best locations in their markets and a national footprint of stores that shared a common look, noted George Hoffer, an economics professor at Virginia Commonwealth University.(IBJ Photo/ Perry Reichanadter)
This time around, GM's axing of its Saturn brand may fuel the nationwide emergence of an Indianapolis-based used-car franchisor.

All Things Automotive could enter the leagues of CarMax, the nation's largest used-car chain, with 100 stores in 46 markets. The first All Things Automotive franchise will open this month in Fishers, at the former Saturn store owned by Lockhart Automotive Group./> All Things Automotive's franchise disclosure, filed recently with the Indiana secretary of state, reveals big ambitions: 33 outlets in 13 states in its first fiscal year. Most of those, if all goes well, will open in calendar year 2010.


"We hope to have 20 facilities opened by the end of this year," said Ronald C. Smith, an attorney specializing in the automotive business at Stewart & Irwin, and secretary of All Things.

Franchise documents show that, as of early February, All Things has been capitalized to the tune of $2.5 million.

Smith, speaking on his cell phone while headed to catch a flight to meet other prospective franchisees, said he anticipates the second All Things franchise will open soon in Pennsylvania with the third opening in Denver, in June.

Other franchises could soon follow in Baton Rouge, La., and in the states of Arizona, Minnesota, North Carolina, South Carolina and Texas.

Savior for disenfranchised

Saturn dealers had some of the best locations in their markets and a national footprint of stores that shared a common look, noted George Hoffer, an economics professor at Virginia Commonwealth University who studies automotive retailing.

"On the cheap you can start, in essence, a national brand," Hoffer said.

All Things Automotive, headed by former Crawfordsville GM dealer Larry Cummings, received a smattering of attention early this year when Cummings rolled out his plan at the National Automobile Dealers Association convention, in Orlando.

That's where Cummings, who retired his Oldsmobile-GMC store in 1998, began wooing former Saturn and other disenfranchised or disheartened new-car dealers with the prospect of a nationally branded and marketed used-car franchise.

Many of the former 340 Saturn dealers are now little more than zombie lots, selling used cars and service. Cummings' franchise would make the dealers once again part of a national franchise, restoring at least some of the cache and marketing horsepower they once enjoyed.

Their prospects for selling new cars are grim, at least in some crowded markets.

Indianapolis is well-represented by new-car brands, and dealer territories already overlap the city's three former Saturn locations, said Marty Murphy, executive director of the Automobile Dealers Association of Indiana.

Yet those former Saturn dealers still enjoy a favorable customer perception. Saturn's no-haggle, low-pressure sales style was a revolution in the new-car business when GM launched the chain as an import-fighter in the mid-1990s.

Saturn showrooms smelled of freshly baked cookies. At Saturn's zenith, die-hard fans even flocked to the Tennessee factory on pilgrimages with almost religious devotion.

"They clearly have good will associated with the physical facilities, the Saturn dealership," Hoffer said.

Pay to play

The price of entry to All Things is an initial franchise fee of $100,000. Another $50,000 buys dealers the right to develop additional franchises.

The initial fee is being waived for the first batch of retail stores during the pilot process, according to All Things documents.

While many of the franchisees will already have modern facilities in place, they'll have to convert to new signage: green with modern lettering topped by a "swoosh" that resembles both a sunrise and a hint of the ring surrounding the former Saturn logo.

All Things appears to have some brand imaging muscle toward that end. It lists among its "managers" Willard Ander Jr., a senior partner of Chicago-based brand strategy firm McMillan Doolittle LLP. That firm's clients include giants of retailing, such as Best Buy, McDonald's, Target and—at one time—GM's Saturn brand.

Many dealers already have used inventory on the lot. The franchise agreement states they must stock parts inventory from North Carolina-based Carquest, an auto-parts chain that is among investors in All Things.

Dealers may also have to source their tires from American Tire Distributors, under a memorandum of understanding reached with the Charlotte, N.C.-based firm. A deal is also in the works to source lubricants from Valvoline.

The documents spell out a number of fees, including a 0.5-percent monthly royalty on gross sales to be paid to the franchisor—and up to 0.5 percent for a cooperative advertising program.

Franchisees are expected to spend a minimum of 2 percent of monthly gross sales on local advertising.

"It needs to be a local brand to start with," said Mark Thomas, CEO of Bedford, Pa.-based Thomas Dealerships, which owns several GM and Japanese car dealerships in southern Pennsylvania and in Maryland.

Thomas is slated to own the second All Things Automotive dealership to open, having decided to fold a small-town Ford franchise he owned as the new-car market turned south a couple of years ago.

Thomas sees All Things' emphasis on vehicle service as a key, noting that not a lot of used-car dealers, including CarMax, have much in the way of comprehensive service offerings. New-car dealers are often preoccupied with warranty work and thus aren't always convenient.

Nor are many new-car dealers competitive on labor rates or parts pricing. According to Automotive News, Cummings is trying, through Carquest, to provide parts at about a 15-percent discount to NAPA and at a 40-percent price savings over General Motors.

Vehicle service emphasis

It's not surprising to see why All Things is looking at service as a moneymaker, at least based on the experience of a traditional new-car dealer.

Service and parts amount to only about 12 percent of revenue but represent 81 percent of operating profits at new-car dealers, according to NADA.

Hoffer, who has extensively studied Virginia-based CarMax, said the chain originally built service bays as part of preparing cars for sale. It later tried to grow the department to bring in more service work, but its technicians often had challenges with the growing variety of vehicles and brands.

Vehicle service revenue amounted to just 1.6 percent of the total $7.4 billion in net sales at CarMax in 2009, according to its most recent financial statement.

Another potential challenge for a used-car dealer seeking big returns from its service department is greater reliability and longer warranties from automakers. If the vehicle has a five- or even 10-year powertrain warranty and something goes wrong, the customer is likely to return to the new-car dealer for service.

Hoffer also noted that newer vehicles have become increasingly complex, particularly in their electronics systems—providing additional incentive to return to the new-car dealer for a quirky, model-specific problem.

"You have to wonder how 'jack of all trades' would work" for All Things' technicians, he said.

All Things is steering onto a crowded road, with 18,600 U.S. dealers selling new and used cars and another 36,500 independent used-car dealers. Combined, they sold 35 million used cars last year.

For some dealers, the All Things franchise could be attractive as a placeholder for a future opportunity to again sell new cars, Hoffer said. Those opportunities would likely come from abroad. He noted that a number of emerging Chinese carmakers are eyeing the United States. And Indian vehicle-maker Mahindra already announced it will introduce here a diesel-powered compact pickup and a sport utility vehicle.

"This franchise gives a holding opportunity, assuming you don't have to hold a long-term [franchise] contract."•