Replacing the existing Wishard Memorial Hospital is so critical to the well-being of the sickly construction sector that one industry official likens the project to a "lifeline."

When construction of the $754 million hospital begins late this summer just west of the IUPUI campus, the project will provide three years of steady work for scores of craftsmen and -women and restore thousands of jobs lost in the recession.

Combined with the other two big construction projects under way downtown—the 34-story JW Marriott hotel and the Indiana Convention Center expansion—the city will have $1.4 billion of work to blunt unemployment.

Gary Price, president of the Indiana Construction Roundtable, a group consisting of some of the biggest users and providers of construction services, views the Wishard work as essential.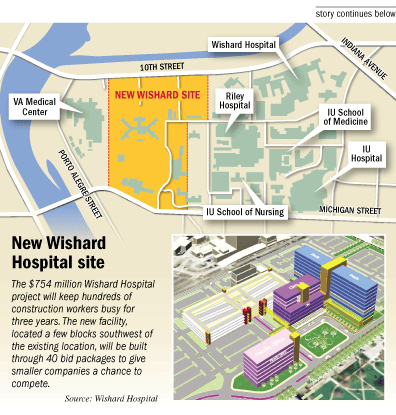 "Without that project … we would be in dire straits," Price said.

The Indiana construction industry lost 9,500 jobs in the year ended in March, the most recent statistics available from the Indiana Department of Workforce Development.

Construction is gaining steam. The sector gained 3,500 jobs from February to March even after adjusting for seasonal fluctuations.

Yet, there's still strong appetite for more. When the Indiana Subcontractors Association introduced the Wishard project in December, about 400 laborers showed up to listen.

Competition should be fierce if work on the Wishard parking garage, the first phase of the mammoth project, is any indication. A bid package for foundation work awarded in late April to just a handful of contractors drew interest from nearly 30 firms.

The larger number vying for work is typical these days, said John Griffin, executive director of the Central Indiana Building Trades Council.

"People are hungry," he said. "Every craft is going to be needed on that [Wishard] project."

He'd feel much better about the industry's prospects, however, if "we could have about 10 more like it."

Chances for small contractors

A total of 40 Wishard bid packages will be awarded, mostly in October and November, said Matt Gutwein, president and CEO of Health and Hospital Corporation of Marion County, which owns the hospital.

Separating the work into multiple pieces gives smaller companies angling for a slice of the pie a much better shot.

"We are a public hospital; we are a people's hospital," Gutwein said. "We have an obligation." The decision to break the work down also is crucial for smaller companies that might have more trouble receiving bonding capacity from banks. A contractor on a project needs to be bonded to ensure it has the finances to complete the work.

The smaller bids are particularly beneficial for minority- and women-owned businesses, which traditionally have fewer employees.

Project managers are aiming to award 15 percent of the work to minorities, 8 percent to women, and 3 percent to veterans.

Ten workshops and networking events are scheduled to help attract minority- and women-owned companies that need to be certified through the city.

Barbara Holder, business development coordinator at the local office of Columbus, Ohio-based Smoot Construction Co., is serving as the Wishard diversity manager.

Holder said the commitment expressed by hospital executives and project managers makes her "very confident" the team will reach its diversity goals.

The Indianapolis office of Pasadena, Calif.-based Jacobs Engineering Group Inc. is the lead construction manager for the project. Publicly traded, the company is the largest manager of health care projects in the country.

Jacobs bested a field of 30 to oversee construction of the hospital and is receiving assistance from several companies serving as project managers. Besides Smoot, they are Indianapolis-based Garcia Construction Group Inc., The Hagerman Group, Keystone Construction Corp. and Shiel Sexton Co. Inc., as well as Pepper Construction Company of Indiana LLC, a subsidiary of Chicago-based Pepper Construction Group LLC.

Overall, hospital executives anticipate involvement of 100 companies.

"I would expect the interest to continue to be hardy," said Tom Ringham, Wishard's vice president of facilities.

Nonunion shops left out

The 1.2-million-square-foot hospital will be built on 37 acres at the west end of the IUPUI campus. The hospital corporation exercised a land-swap option in November with Indiana University. The agreement called for Wishard to take control of the hospital site immediately, then gradually cede ownership of its current hospital site over the next four years.

The land Wishard received contained the old Larue Carter psychiatric hospital facility, which has been torn down, and the former State Department of Health building, which is being demolished.

By the time the symbolic ribbon-cutting is held at the new hospital in 2014, the oldest building at the current Wishard will be 100 years old.

Nonunion contractors won't be celebrating, though, because a project labor agreement prevents them from participating.

Supporters of the agreements say they ensure large projects are completed on time and on budget. Similar agreements have been used for many of the city's large projects, including Indianapolis International Airport's midfield terminal, Lucas Oil Stadium and Conseco Fieldhouse.

Critics like J.R. Gaylor, president and CEO of the Associated Builders & Contractors of Indiana, an organization that represents nonunion contractors, think Wishard should have given the entire construction industry a shot at the work if it truly embraced the project as a community effort.

"To me, it's pretty disingenuous," Gaylor said.

But Price at the Indiana Construction Roundtable maintained that Gaylor's merit shops actually might benefit from the Wishard work in a roundabout way.

Price argued that Wishard and Clarian Health, which plans to build a $375 million bed tower at Methodist Hospital beginning in fall 2012, will provide so much work to tradesmen that nonunion contractors will have a much better chance at picking up other projects.

Clarian presented plans for the tower, which is expected to be finished in 2015, to the Indiana Subcontractors Association in late March. Mark Bode, executive director of Clarian Real Estate, may have best summed up the tribulations of the construction industry then.

"If you're here, that means you've survived the last 18 months in this economy," Bode said. "Congratulations."•