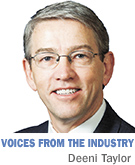 President Obama put an end to most of the uncertainty surrounding health care reform when
he signed the $938 billion reform law in March. Now, look for executives of hospitals, health care systems and physician practice
groups, with improving economic winds at their backs, to move forward with decisions on real estate leasing and capital improvement
projects.
Health care providers and real estate firms stand to gain from reform in the long term because an estimated 32 million uninsured
Americans will gradually obtain medical coverage by 2019; this broader coverage will boost demand for health care facilities.
If there was any upside to the recession, it was that the forced lull in building gave providers time to thoroughly re-evaluate
their facilities plans. Perhaps as a result of all that strategizing, there has been a noticeable uptick in the level of health
care real estate development activity this year.
BremnerDuke is receiving a growing number of requests for proposals, and actual development projects are moving forward.
Growth might be hampered by a fragile economy and limited access to capital, but health care is still a demand-driven business
and that demand can't be deferred indefinitely—despite short-term economic and regulatory uncertainty.
Health care reform will intensify two already-powerful trends of an aging population and the shift to outpatient care.
With baby boomers starting to turn 65 next year, the U.S. Census Bureau projects that the number of Americans age 65 and
older will rise by a whopping 36 percent from 2010 to 2020, compared with a 9-percent increase for the population as a whole.
These seniors are not only one of the fastest-growing segments of the U.S. population, but they also happen to be heavy users
of health care services.
Ultimately, greater demand from boomers will require more health care facilities. What kind of facilities? That brings us
to our second major demand driver: the continuing shift of health care services to outpatient settings.
The number of U.S. hospital beds declined to 808,069 in 2007 from slightly more than 1 million in 1982, according to the
American Hospital Association. Put another way, the number of hospital beds per 1,000 people declined to 2.75 from 4.37 during
the same period.
That can only mean more health care services are being delivered in medical office buildings, ambulatory surgery facilities
and other outpatient facilities. What's more, the shift to outpatient care is likely to accelerate.
Based on population, medical, economic and technological trends, demand for outpatient services is projected to increase
nearly 22 percent by 2019 while demand for inpatient services will remain flat, according to a recent forecast by Sg2, a health
care information systems firm.
Those long-term trends are irrefutable. Moreover, the new health care reform law will probably magnify their impact.
Early in the health care reform debate, when it first appeared possible that medical coverage might be extended to as many
as two-thirds of America's 46 million uninsured citizens, the national real estate firm Marcus & Millichap projected
that demand for additional medical office space could be as much as 61.9 million square feet, based on the current ratio of
1.9 square feet per insured individual.
Now, with 32 million Americans set to join the ranks of the insured, those projections could become a reality. Consequently,
more seniors—and individuals of all ages—will qualify for coverage, making them even more likely to seek regular
medical care.
The uninsured consume only about 60 percent of health care services used by insured people, according to a recent estimate
from the U.S. Congressional Budget Office. But that usage could increase 25 percent to 60 percent if those folks were covered
by the equivalent of a typical employment-based plan, the CBO says.
Unemployment remains high, credit remains tight for many borrowers, and there are still concerns about the ultimate effects
of health care reform.
However, reform inevitably will increase demand for health care design, construction and development services.•
__________
Taylor is an executive vice president at BremnerDuke Health Care Real Estate. Views expressed here are the writer's.
Please enable JavaScript to view this content.