A dispute between Allison Transmission and a major supplier over allegations of defective parts has grown so contentious that the supplier is threatening to halt shipments—a move Allison says could force it to shut down.

Marion Superior Court Judge Patrick McCarty issued a preliminary injunction March 5 that kept parts flowing from Michigan-based Freudenberg-NOK. But Freudenberg immediately appealed.

"The threat of stopping shipments is the 'nuclear option' in the automotive supply industry," Allison said in an April 30 filing opposing the appeal.

If Freudenberg were allowed to walk away, Allison said, the transmission manufacturer would be forced to stop making nine of its 10 product lines—including transmissions for military vehicles used in Iraq and Afghanistan—within two weeks.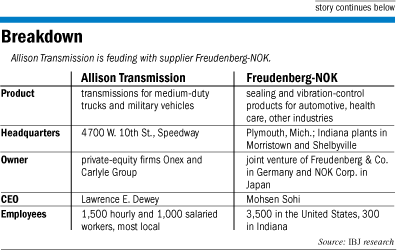 The company says the impact on its 2,500-person work force in Speedway would be devastating. Allison says it would have to lay off 1,300 of its 1,500 hourly workers, plus contractors and, eventually, 1,000 salaried employees.

"Because 99 percent of its manufacturing operations would be shut down, Allison would have no need to purchase parts from more than 450 suppliers," the company stated.

Allison is one of Indianapolis' largest manufacturers. The former General Motors Corp. unit—purchased in 2007 by private equity firms Onex of Toronto and Carlyle Group of Washington—makes transmissions for commercial trucks and buses, plus military vehicles. Its headquarters and the majority of its manufacturing plants occupy a sprawling campus on West 10th Street in Speedway.

Freudenberg, a German-Japanese joint venture, supplies seals and vibration-control products to a number of industries, and has been a supplier to Allison since at least 2000.

Soured relationship

The battle stems from a defective-parts lawsuit Allison filed in Marion Superior Court in September 2009.

Allison alleges that the bonded piston seals it received from October 2007 to February 2009 were defective, causing "widespread failures in Allison transmissions around the world."

From 2007 through 2008, Allison produced more than 100,300 transmissions, each containing two of the parts.

Freudenberg General Counsel Bob Evans said the company denies the parts were defective, though it did change its manufacturing method in February 2009. Allison says that, after the change, it didn't experience any defects.

Allison wants Freudenberg to reimburse its costs, plus damages. Neither amount was specified in the company's September lawsuit. In a recent appeals court filing, however, Freudenberg calls Allison's lawsuit a "multimillion-dollar" warranty claim. The company says Allison paid less than $10 per part, yet wants to recover $5,000 per failed transmission.

"Freudenberg decided it no longer desired, and in fact cannot practically afford, to do business with Allison," the filing stated.

So in January, about a month after settlement talks broke down, Freudenberg proposed to stop shipping all 28 parts it supplies to Allison in the following month to four months.

"We were exercising rights that we believe exist in the contract to end the relationship," Evans said.

Allison's attorney, Richard Blaiklock at Lewis Wagner LLP in Indianapolis, would not comment.

Custom-made seals

Most of the 28 parts Freudenberg provides are seals. Allison says that all are custom-made and integral to its transmissions. Freudenberg is the sole supplier of those parts, and Allison claims it would take 22 months to find an alternative source.

Allison said Freudenberg was commited to supply some parts through December 2011 and others through December 2013. But Freudenberg argues that its agreement with Allison is on an order-by-order basis.

The company also disputes Allison's contention that it would take nearly two years to find alternative suppliers, and says it would help the transmission maker through the transition.

The two companies have had similar clashes in the past.

Freudenberg notes that the September 2009 suit is the second case Allison has filed against it in recent years. The supplier's legal team, which includes Wayne Turner at Bingham McHale in Indianapolis, took a sarcastic tone as it argued in a recent court filing that Freudenberg might be exposed to more lawsuits if it doesn't exit the relationship.

Allison isn't claiming the parts it receives now are defective, the lawyers acknowledged. "Not yet anyway."

Meanwhile, Allison suggests it's being held hostage by Freudenberg's "stop ship threat," a hardball strategy it says the supplier has used before.

"FNOK is one of very few suppliers to engage this tactic against Allison Transmission, and it has done so twice in just over one year," a filing by Allison attorneys says.

Freudenberg knows the industry's "just-in-time" inventory practices make manufacturers vulnerable to stopped shipments, Allison alleges, and it's leveraging the threat to try to get Allison to drop its defective-parts claim.

Freudenberg denies it has an ulterior motive.

"One of the interesting issues here is they claim the product we provide is defective," Evans said, "Yet they want us to continue to perform. This inconsistency is difficult for us to rationalize."

Kenny Veith, a partner at ACT Research, a consulting firm in Columbus, Ind., said it would be unusual for a supplier like Freudenberg to walk away on short notice.

"You can't leave somebody in the lurch," he said.

Veith, whose firm follows the commercial-trucking industry, said Allison shouldn't have trouble finding a replacement supplier. The question is what it would cost, he said.

"The next person who comes into this agreement is going to charge a bit more," he said. "That would be the biggest risk in the situation."•