As Jeff Simmons, president of Elanco Animal Health, ambles to the back corner of a Kroger supermarket in Greenfield, he stops halfway between the milk and the cheese.

On each glass door of the milk refrigerators, a multicolored sign stands out sharply against the white jugs behind them: "Our farmers pledge not to treat their cows with the artificial growth hormone rbST." The signs, now familiar to shoppers, are a direct attack against Elanco—the Greenfield-based maker of rbST.

But no such sign appears amid the blocks, bags and cartons of cheese—meaning those products are made with milk from cows given rbST.



Simmons is making a huge bet the cheese will win over the milk. He predicts retailers and consumers—especially in emerging markets—will opt for food made cheaper by using Elanco's productivity-enhancing drugs over the pricier organic and locally grown products made without them. But, as a hedge, Simmons has Elanco developing products to help organic farmers, too.

Indianapolis-based Eli Lilly and Co. needs Simmons to cash both bets.

Lilly is counting on rapid growth from its hitherto sleepy Elanco unit to help offset some of the $10 billion in current revenue it stands to lose over the next five years as patents on its best-selling drugs expire.

Lilly CEO John Lechleiter is high on Simmons. Just before Simmons took the top job at Elanco in January 2008, Lechleiter predicted great things.

"More energy than I've had hot meals," Lechleiter said of Simmons, a 42-year-old father of six.

But the heat on Simmons and his Elanco compatriots rises every day that Lilly goes without producing a new breakthrough in its human medicines. Lilly has launched only one new drug in the past five years, Effient, which is so far producing minuscule sales.

"Five years ago, [Lilly] people said, 'Don't go to Elanco because they're going to get sold,'" Simmons told IBJ. But today, he added, "We know the limelight is on us."

Indeed, Lilly is investing more resources in animal health than ever before. On May 27, Elanco will hold a private dedication of its $25 million, 135,000-square-foot headquarters in Greenfield—home to Elanco's 350 local employees and a symbol of its growing importance within Lilly.

Lilly has made a string of animal health acquisitions in the past three years. On Simmons' recommendation, it bought rbST, also known as Posilac, for $300 million from Monsanto Co. Most recently, Lilly acquired the European rights to animal health products from New York-based rival Pfizer Inc.

In 2007, Lilly launched a fast-growing pet health business, which sells medicines for dogs to treat fleas and separation anxiety.

Elanco relies on acquisitions and Lilly's laboratories to discover animal drugs. But it has no trouble finding new ones. From 2002 to 2008, Elanco launched 15 products—more than any of its competitors, according to statistics from United Kingdom-based consulting firm Vetnosis Inc. Simmons said Elanco has four dozen products in development and could launch as many as five this year.

Almost none of the Wall Street analysts following Lilly pay much attention to Elanco, since it accounts for less than 6 percent of the company's sales. But they do expect it to grow nicely over the next few years—from $1.2 billion to as much as $1.8 billion by 2015.

Elanco's sales rank it fifth in the $19-billion-a-year global animal health business. However, it will be dwarfed by the $5-billion-a-year giant joint venture being formed by France-based Sanofi-aventis and New Jersey-based Merck & Co. Inc.

Those companies are going after the same opportunities as Elanco: Rising world population and burgeoning middle classes in Asia are expected to double the world's cattle population and global meat consumption by 2050.

"Animal health is a growth driver [albeit not high growth]," wrote analyst Les Funtleyder of Miller Tabak & Co. in a note to investors, "due to an increase in companion animals as well as a move to a more protein-based diet in emerging economies."

Consumer company

One way Elanco is trying to grow faster than its industry is by turning itself from a farm-focused company to one focused on the actual steaks, chickens, eggs, milk and cheese consumers eat.

"We used to say, 'We can help you [farmers] need one less pound of corn per hundred head of cattle,'" Simmons said while perusing the meat cases at Kroger with an IBJ reporter. "No, no, no. We've converted our business. We are a people business."

The next day, Simmons was scheduled to meet with the president of Wal-Mart Stores Inc.—the biggest food retailer in the country.

It's a big shift in mind-set for the 56-year-old company. Until recently, Elanco's primary focus has been on feed additives and antibiotics for farm animals. For instance, it uses a compound called ractopamine to boost muscle formation in pigs, beef cattle and turkeys.

It's also a big shift for Simmons. He strolled through Kroger in typical attire for a corporate executive—black suit and BlackBerry—which he had to turn off after getting three calls in half an hour. But Simmons was raised in a farm family in upstate New York. He has owned his own vineyards since he was 9 years old.

Simmons is a believer in the superiority of technology-driven farming methods—what critics call factory farming—even though he also has steered Elanco to begin to develop products for organic farmers.

He once took his mother-in-law to a "chicken house" to cure her of eating only free-range chickens. He grabbed two chickens—one free-range and one not—pulled their heads off and cut them open with a jack knife. The intestine of the free-range chicken was filled with stones, mud and "lots of enteritis." The one fed chicken feed in a pen had an intestine that was "pure and almost looked like meat," Simmons said.

"She was convinced," Simmons said. "And she has convinced over the next 10 years probably 150 to 200 people never to eat free-range chickens."

Sales pitch

Simmons has asked his Elanco team to think about their business in terms of how much money Elanco's animal drugs save consumers on each kind of product in the grocery store. And that's his message to the president of Wal-Mart and other retailers, too.

"We save 45 cents on every pound of beef, 11 cents on every gallon of milk, 22 cents on every package of shredded cheese," Simmons said.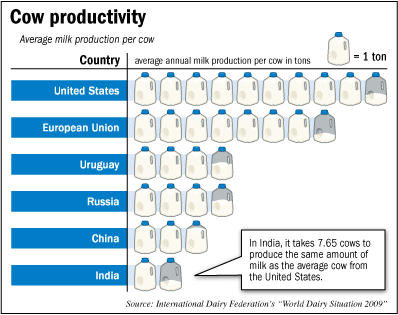 Simmons also is taking that message around the world—where many countries ban Elanco's products—including rbST and ractopamine—but where less-efficient agriculture means consumers spend far higher percentages of their income on food than Americans do.

Simmons says he's getting traction. Uruguay is considering approval of Elanco's growth hormone for dairy cows. And India has put rbST into a development trial that Elanco hopes leads to its approval in the world's largest milk-producing country.

In Uruguay, it takes more than 2-1/2 cows to produce as much milk as one cow in the United States, according to statistics from the 2009 World Dairy Situation report, made available on the Web site of the International Dairy Federation. In India, it takes more than 7-1/2 cows to equal the production of one American cow.

Other foreign markets where Elanco is trying to introduce rbST and some of its other products include Argentina, Brazil, Russia and, of course, China.

"We never bought it with the assumption that it was going to come back in this market," Simmons said of rbST, acknowledging its controversy here and in Europe. "But China, its government, is trying to triple its citizens' daily intake of milk. They need 36 million more dairy cows. They said, 'There's no way we can do this.'"

Courting controversy

As Elanco becomes a consumer-focused business, it's also a bigger target for criticism and the kind of controversy formerly reserved only for Lilly's psychiatric drugs.

Some question the safety of Elanco's products or the long-term health impact they have on consumers. In February, the liberal Web site CounterPunch.org published a story citing a 2002 warning letter from the U.S. Food and Drug Administration about ractopamine, which said Elanco had failed to disclose instances where animals had adverse reactions to the drug.

CounterPunch called ractopamine's muscle-boosting effects "a macabre version of economies of scale." Elanco sells ractopamine under the names Paylean, Optaflexx and Topmax.

Some researchers claim that overuse of ractopamine in pigs has contributed to higher numbers of pigs that can't walk. But whatever the FDA's concerns, they've been satisfied. The agency has continued to approve new products that have ractopamine in them—including one in February.

Jill Richardson, a food activist and author of the 2009 book "Recipe for America," recently attacked a white paper written by Simmons, which called for retailers to refrain from marketing products, such as milk, by trumpeting that they don't contain rbST, also known as rbGH, or other animal health products.

"They call for two things: technology and choice," Richardson wrote of Simmons' white paper, on her blog La Vida Locavore. "Translation: Legalize our products please. We have technology, and consumers should be able to choose whether or not they buy foods that were produced using our technology. But please don't actually inform the consumers about that or label your foods 'No rbGH.' Just feed it to them without a label and they won't know the difference."

Simmons is happy to spar with critics of Elanco and the "factory farms" its antibiotics, insecticides and growth hormones make possible.

He's swapped e-mails with one of the producers of "Food Inc.," the 2009 documentary that lambasted industrial agriculture. He's done a point-counterpoint debate with Michael Pollan, the New York Times Magazine writer who has become the most famous critic of factory farms and food products—as opposed to simple food, which our great-great-grandmothers would have recognized.

"I go to the heart of the storm," Simmons said. His main counterargument comes from a prediction by the United Nations: The world's growing population will require twice as much food in 40 years but, because of a land shortage, 70 percent of that food must come from efficiency-enhancing technologies.

Simmons even says he's thankful for the controversy. As he stood between the milk and cheese cases at Kroger, he said the criticism Elanco has faced—especially over rbST—has forced it to get smarter about how its business affects stores and their shoppers.

"We are twice the company today in retail than two years ago," he said. "We know food policy, we know retailer policy, we know state labeling. Our retailer team is twice the size. We're going to be a better company for it."•