Seven months before the $275 million expansion of the Indiana Convention Center is complete, convention planners and local
convention and tourism officials are calling for an upgrade to the existing Convention Center space.
The improvements to existing convention center space would cost $5 million to $10 million, according to the Indianapolis
Convention and Visitors Association.
ICVA CEO Don Welsh said his organization is working with city and state officials to secure the funding, which might include
corporate sponsorship money.
Welsh hopes to have the upgrades made by the end of next year, just in time for a major influx of visitors for the Super
Bowl in February 2012.
"Clearly, when the public sees the quality and uniqueness of the new facility—the entrance, fixtures, carpet,
designs, wall colors and wall schemes … the current building will be judged," Welsh said.
Welsh
The Convention Center is a key economic driver, not just for downtown, but for the entire region, and keeping it in pristine
shape is critical to getting the most out of it, Welsh said.
The ICVA estimates $750 million to $800 million per year in direct visitor spending stemming directly from hosting conventions
and meetings in Indianapolis.
"The timing for this request couldn't be worse," said local attorney Paul Ogden, who has written extensively
about the city's recent financial difficulties for his Web site, Ogden on Politics.
"The Pacers want $15 million, libraries are in jeopardy of closing, the parks department budgets have been cut, and
now they want more money to make the interior of the existing Convention Center look shiny and new. Where is the money going
to come from? It's time to say enough is enough."
Another upgrade local convention leaders must consider, meeting planners said, is a moving walkway between the expanded convention
center and Lucas Oil Stadium, more than a quarter mile to the south. That also would carry a hefty price tag—too hefty
in fact for planners of the facility to consider at this time, members of the Capital Improvement Board—which owns the
Convention Center—have said.
"I know it would be expensive to install, but I really don't know how you sell that space in Lucas Oil Stadium
[without it]," said Debbie Locklear, founder and president of Meeting Services Unlimited Inc., an Indianapolis-based
firm that represents some of the nation's largest trade shows, including the Custom Electronic Design & Installation
Association's annual event.
"Exhibitors at the FDIC show here complained that no one was coming to Lucas Oil Stadium. They had to create a major
attraction at the stadium to get people down there, and that puts another burden on meeting planners."
A moving walkway or series of walkways of the length needed to connect the Convention Center and Lucas Oil Stadium could
cost $1 million to $3 million. Thousands of dollars more would be needed each year to manage and maintain it.
Welsh said he's in favor of such a walkway but that the need for it is far less immediate than upgrades needed to the
interior of the existing Convention Center. Many meeting planners agree.
Dirk Ebener, CEO of Atlanta-based NuernbergMesse North America, which represents more than 100 trade shows globally, said
Indianapolis needs a plan for upgrades to most of the approximately 500,000 square feet of existing meeting space.
"You have to make sure someone walking through the expansion to the existing part of the building doesn't feel
like they're walking from a first-class to a second-class facility," Ebener said. "Overall, it's very
wise to spend some money to upgrade the soft good elements of the building."
Wiring and other technology in the existing Convention Center will be upgraded to match the expansion, said John Klipsch,
director of the Indiana Stadium and Convention Building Authority, which is overseeing the Convention Center expansion. But
he admitted there will be some contrast between the new and old parts of the building.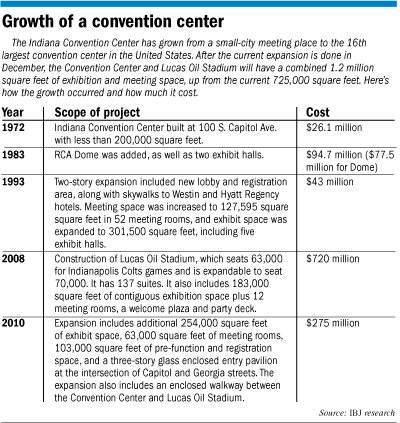 "You'll definitely notice the difference in things like carpet and paint,"
Klipsch said.
Ebener and Locklear agreed new paint, carpeting, lighting and signage as well as work on bathrooms is needed within two to
five years in the existing part of the building.
Ebener's firm requested space in the new part of the Convention Center due to superior lighting and audio-visual capabilities,
its column-free space and movable walls.
"When you have an expansion, the first thing any event planner, convention organizer or exhibitor wants to know is,
'Are you in the new part or old part?'" Ebener said. "If the city wants to reach capacity and book
the old part of the Convention Center as much as the new part, they have to keep it upgraded."
Chicago's McCormick Place suffered attendance declines, Ebener said, when convention officials there didn't keep
the facility up to date. Locklear added that convention officials in cities such as St. Louis and Cincinnati have had to offer
deep discounts to keep event planners coming to their outdated facilities.
"You can't treat a convention center like other corporate space," Ebener said. "It's a showplace."
The ICVA brought in 105 current and potential convention customers for the Final Four weekend in April, 30 percent of whom
had never been to Indianapolis. Welsh hopes for a similar showing during the 2012 Super Bowl.
"That's a very important week for this city in many ways," Welsh said, "and we want to have everything
in place."
The upgrades might be hard for CIB to swallow given difficulties with operating expenses at two other buildings the city
board owns: Conseco Fieldhouse and Lucas Oil Stadium.
CIB members spent much of 2009 trying to overcome a projected $47 million deficit. The board has improved its financial health
by making $26 million in cuts and by avoiding $25.5 million in debt-service reserve payments.
The not-for-profit now is on target to turn the budget deficit into a surplus—additional money that could be used in
negotiations with the Indiana Pacers. The Pacers are seeking $15 million annually from CIB to operate the fieldhouse.
ICVA's Welsh said he has gotten positive feedback from CIB, adding, "I'm highly optimistic this can happen."
The ongoing expansion increases the size of the Convention Center from nearly 725,000 square feet to more than 1.2 million
square feet, bumping it from the nation's 33rd largest to 16th largest.
Indianapolis is on the cusp of being a top 15 U.S. convention town, Ebener said, and upgrades to the existing space—along
with the expansion—would help it achieve that status.
"The Convention Center," Ebener said, "has the potential to be a major card for the city to play."•
Please enable JavaScript to view this content.