Virtually every exhibit in the Indiana State Museum has Bowen Technovation's fingerprints on it.

Same goes for the exhibits in the Indiana Civil War Museum under Monument Circle.

The small, Indianapolis-based firm is so highly regarded in the museum industry, it was recruited to do work for the Holocaust Museum in Washington, D.C.

But Bowen was so busy, it couldn't take the job.

"That was a heartbreaker," said Jeff Bowen, who founded the company as Bowen Music Productions in 1985. "But we simply couldn't coordinate the dates."

Bowen, 57, who studied biochemistry and music at the University of Illinois, has assembled an eclectic group of 18 full-time staffers ranging from electrical engineers and journeyman machinists to artists. Computer systems analysts and audio and lighting experts are also part of the mix. Some of his top staffers wear several hats.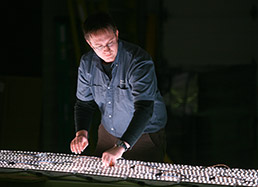 Bowen Technovation's Jason Umbreit arranges a light display being prepared for one of its clients. Up to 60 percent of the company's work comes from foreign clients. (IBJ Photo/ Perry Reichanadter)

"We're not an audio-visual company," Bowen explained. "We call ourselves an exhibit technology company."

While many traditional audio-visual companies have struggled through the most recent economic swoon, Bowen said his firm hasn't been affected at all.

Bowen specializes in putting together audio, video and lighting systems to create interactive displays for museums, science centers, planetariums and Imax theaters.

Bowen handled many of the elements in the vortex display at the Central Library's Learning Curve and the InfoZone at The Children's Museum of Indianapolis. And the firm is linking all data systems at the Indiana Convention Center expansion.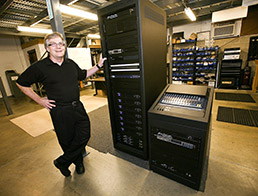 Jeff Bowen shows off a multi-media display unit his staff custom-built. He said the objective is not to "wow" visitors with technology, but to immerse them in information. (IBJ Photo/ Perry Reichanadter)

"Typically, to get a firm of their talent and ability, especially in the museum industry, you'd have to go to New York, Chicago or San Francisco," said John Klipsch, director of the Indiana Stadium and Convention Building Authority, which is overseeing the convention center expansion.

The collective talents of Bowen's staffers are in demand—and not just in Indiana. The firm has done work on the world-renowned Bibliotheca Alexandrina in Egypt and the National Museum of the Pacific War in Texas, which is backed by former President George W. Bush.

Bowen's most recent coup is a deal to handle more than 70 interactive displays and audio-visual projects for the Computer History Museum. The much-ballyhooed project in Silicon Valley is financially backed by all the biggest names in the computer industry, including Apple, Microsoft, Sysco and Oracle. It is set to open Dec. 15 and Bowen is working full throttle trying to meet the deadline.

"This is a very high-profile project that could go after just about any vendor it wanted," said Jerry Spangler, vice president of Ohio-based Exhibit Concepts, which is overseeing exhibit fabrication for the Computer History Museum. "When it comes to quality of work, cost management and responsiveness, there simply aren't many firms nationally within the museum industry who can match what [Bowen] does."

Several of the components Bowen uses in its tailor-made exhibits have been adopted as industry standards, Spangler said. Bowen said the objective is not to 'wow' visitors with technology, but to immerse them in the information provided.

While Bowen declines to divulge his firm's exact revenue, he said it is growing by double digits on a percentage basis and—even through this recession—is approaching the mid-seven-figure range.

He added that the National Museum of the Pacific War project, a three-year job that ended in December, and the Computer History Museum, which is beginning this year, will each deliver seven-figure paydays.

But Bowen has little interest in growing for growth's sake.

"We could double or triple our size tomorrow," Bowen said. "We're not trying to grow; we're trying to assure our profit margin grows by innovating new products."

While most traditional audio-visual firms shoot for a 5-percent profit margin, Bowen said, his firm's is significantly higher than 10 percent.

There's another motivating factor for Bowen, who can be found most days at his Castleton office surrounded by as many as three of his large dogs. He and his wife, Diana, whom he co-owns the company with, are as devoted to Golden Retriever rescue as they are to their day jobs.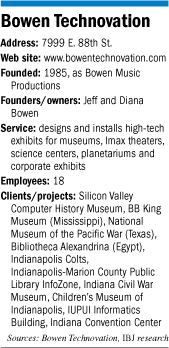 "We're driven by doing work we like to do, working with subject matter we find interesting, and working with people we like to work with," Bowen said.

Bowen's unconventional approach touches almost every aspect of his business.

Though his company thrives on being on the cutting edge of communication technology, Bowen refuses to use an automated telephone answering system or voice mail. He doesn't even have a receptionist.

"We know customers want to talk to a real person," Bowen said. "All of us here are sales reps and project managers. And we all answer the phone."

His old-school customer service style doesn't mean Bowen doesn't know a thing or two about innovation.

He initially made his mark in the industry by reworking the way automated musical scores matched up with video scenes. Industry sources said technology significantly dropped the price of producing music scores for commercials, television shows and movies.

Soon, Bowen began transitioning away from the corporate and ad agency work that accounted for nearly all its revenue in the company's early years. Exhibit-oriented clients began requesting more complex projects, and Bowen said his staff enjoyed the challenge.

By 1992, corporate and ad agency work accounted for only 10 percent of the firm's revenue. Museums, planetariums and other venues had become the biggest money generators.

The company has grown with a minuscule advertising budget.

"We only spent $40,000 on marketing last year," Bowen said. "Most of our growth can be attributed to word of mouth."

Word seems to have spread far. Bowen said up to 60 percent of the firm's work now comes from clients outside the United States.•