They came out of the woodwork over the last few years: upstart energy-efficiency consultants, along with existing companies introducing "green" building specialties.

The enterprising firms seized on a flurry of new federal grants and tax credits available for efficiency and renewable energy. They warned that Congress is scheming to tax carbon emissions, which could drive up electric rates.

One firm in the sector, locally based Performance Services Inc., hit the green jackpot recently, landing a deal with the city to make more efficient all 28 floors of the high-profile City-County Building.

Yet Performance Services is not a new company. It was a pioneer in the energy savings niche more than a decade before green became cool or was perceived to be a viable market.

For the last 12 years, PSI has toiled quietly, mostly in public-sector projects involving schools, municipal buildings and medical facilities. It may be better known elsewhere, such as in the Indiana-Ohio border town of Union City. There, PSI has quarterbacked the construction of two 1-megawatt wind turbines to power the town and its schools.

"We've done over 100 energy savings projects," said Tim Thoman, president and founder of PSI.

To those outside the engineering and construction realms, PSI is an animal that's a bit hard to classify. The 50-employee firm calls itself a "design-build engineering and construction company."

In a traditional project, an architect/engineer designs a building first, with a competitive bidding process later to pick contractors.

Under design-build, PSI essentially handles all aspects of a project itself—competitively bidding equipment and installation. It is solely responsible for seeing that all elements of a project are completed.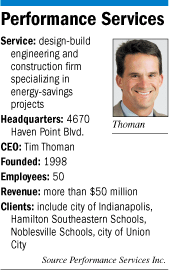 Design-build has turned out to be an attractive format for energy-savings projects. It allows PSI to guarantee a set level of savings and building performance.

For example, with the City-County Building project, PSI guarantees that the city will save at least $250,000 a year—or it has to cut the city a check for the shortfall. So far, among all clients, "we haven't cut any checks," Thoman said.

He thinks the accountability aspect helped land a number of projects, including work for Hamilton Southeastern Schools that PSI guarantees will save the district $1.1 million a year. Improvements range from rewriting control sequences for HVAC systems to high-efficiency boilers.

A lot of buildings already have efficient equipment and sophisticated digital controls. But traditionally there's little incentive for contractors to set them up most efficiently before heading to the next job.

"[Building owners] are tired of spending a lot of money for a building that doesn't work well," Thoman said.

At their Carmel headquarters off Gray Road near East 96th Street, PSI engineers have the "very methodical and analytical" task of monitoring clients' buildings, via an Internet link. They keep precise records of energy consumption. If someone at the school overrides a building's HVAC settings, "we know immediately. We can work with the facility to improve energy efficiency."

While the nearly 50-year-old City-County Building was well-maintained over the years, the maintenance team wasn't enabled to make much in the way of holistic improvements, said PSI's business development manager, Phil Yuska. He's been combing over the building for weeks, marveling at robust features such as welded steel ductwork. "It's built like a tank."

Thoman is banking on a 40-percent improvement to building efficiency.

"They weren't focused on energy efficiency when they built it," said Thoman, who worked for HVAC giants Johnson Controls and Siemens before founding PSI.

One of the solutions will be a geothermal system.

The tower sits on a high water table. Its basement is deluged with thousands of gallons of water daily that must be pumped out. The geothermal system will strip heat from the 55-degree water for heating in winter. In summer, the water will be used for cooling.

The project also includes new street lighting on the building's grounds that will be powered by batteries fed by vertical wind turbines and photovoltaic cells mounted atop light poles.

The guaranteed annual savings will be about $780,000, but the city's net savings will be $250,000 a year over the 15-year life of the project.

"The majority of this savings will be used to pay for the energy conservation measures to make the building more energy-efficient," said Karen Haley, the city's director of sustainability.•