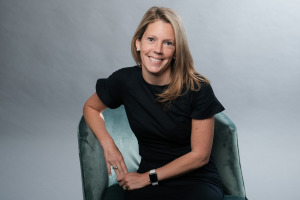 Assistant General Counsel
Toyota Industries North America Inc.
As in-house counsel for Toyota Industries North America (also called TINA), Jennifer Triplett is responsible for providing legal guidance and compliance support to the North American headquarters for Toyota Industries Corp. and its North American subsidiaries. The Toyota Industries Group primarily manufactures forklifts, automotive component parts and textile machinery. The legal department where she works provides services to all the subsidiaries—more than 20—in North America.
Getting here: Triplett started her career at Baldwin & Lyons, an insurance agency now called Protective Insurance Co., in 2005. After a year there, she went to law school, gave birth to her first daughter in between semesters during her third year of law school and returned to work in 2010. She moved to Toyota Industries North America in 2015.
First job: sales associate at Old Navy

Proud moment: Building relationships with Toyota's group companies and colleagues in the legal department in Japan. "Gaining the trust of the people throughout the organization is something that I am particularly proud of. It took a lot of work and I had to prove myself, but in the end, those relationships have allowed me to effectively provide legal guidance and solutions."
Influential people: Her parents, Tim and Joan Miller. "My father really demonstrated what it meant to be a hard worker and how important work ethic was and to never give up or let setbacks/failures hold you back. My mother was a constant stream of support and love, and that really gave me the confidence to feel like I could tackle anything."
Givebacks: Children's Museum Guild member
Downtime: going to her kids' activities, planning the Children's Museum Guild's haunted house •
Check out more Forty Under 40 honorees.
Please enable JavaScript to view this content.