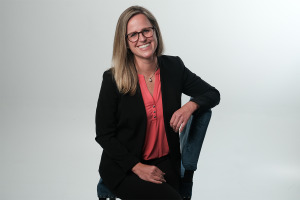 Founder and CEO
myCOI
A house fire that destroyed nearly everything Kristen Nunery's family had was the impetus for her starting myCOI. The company manages certificates of insurance, protecting construction, real estate and other businesses against the risk of underinsured claims, costly litigation and failed audits. "Because of the type of insurance policy my parents had on our home, they ended up in a three-year battle with the insurance carrier before the claim was ever paid out. It was an extremely challenging and stressful time. What we do today at myCOI protects our customers from that same disruption, stress and heartache."
Getting here: Nunery began her career in residential real estate investing, which "allowed me to shine with both my analytical and creative strengths," she said. It also helped her understand the need for myCOI because she was hiring contractors to renovate homes and needed to ensure that they—and their subcontractors—had proper insurance. After the housing market crashed in 2008, Nunery started myCOI in 2009.
First job: hostess, Uno Pizzeria at Keystone at the Crossing

Proud moment: Leading the company from zero employees to a team of 70. "It is the people that make a business successful, and ours is incredibly talented and one that is deeply committed to our purpose."
Influential person: Her executive coach, Christopher Clapp. "Christopher helps me effectively navigate challenging situations and make significant decisions, often challenging me right back."
Givebacks: TechPoint advisory board member; Alzheimer's Association fundraiser and advocate
Downtime: playing flag football and volleyball; spending time at lakes and beaches; exploring the country in her RV; listening to music; binge-watching action shows; and hanging out with her dogs •
Check out more Forty Under 40 honorees.
Please enable JavaScript to view this content.