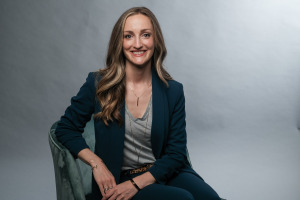 CEO and Co-founder
Casted
As the CEO of Casted, a content marketing platform that helps companies use audio and video as a major part of their marketing, Lindsay Tjepkema has generated almost $10 million in capital for the company, tripled the size of its team (to 30), increased revenue eightfold (company doesn't disclose revenue) and quadrupled its customer base to include Salesforce, ZoomInfo and PayPal.
Getting here: After spending 15 years in business-to-business marketing, Tjepkema was brought in to Emarsys in 2016 to create and lead content marketing and brand efforts. She made conversations with subject-matter experts the center of everything the company did, including launching a podcast and a video series that were used to generate all other sales and marketing content. But there was no tech platform to support that work and no easy way to measure the impact of the company's work, so in 2019 she started Casted as part of the High Alpha Venture Studio. 
First job: buser, Bill Knapp's restaurant

Proud moment: building something that didn't exist before by creating Casted
Influential person: Her husband, Mike. "His encouragement, unwavering support, motivation and love have helped me navigate moments that were more difficult than I ever could have imagined."
Givebacks: Heartland Church volunteer; Rise and Thrive participant; World Vision sponsor
Downtime: family time, reading, listening to podcasts •
Check out more Forty Under 40 honorees.
Please enable JavaScript to view this content.