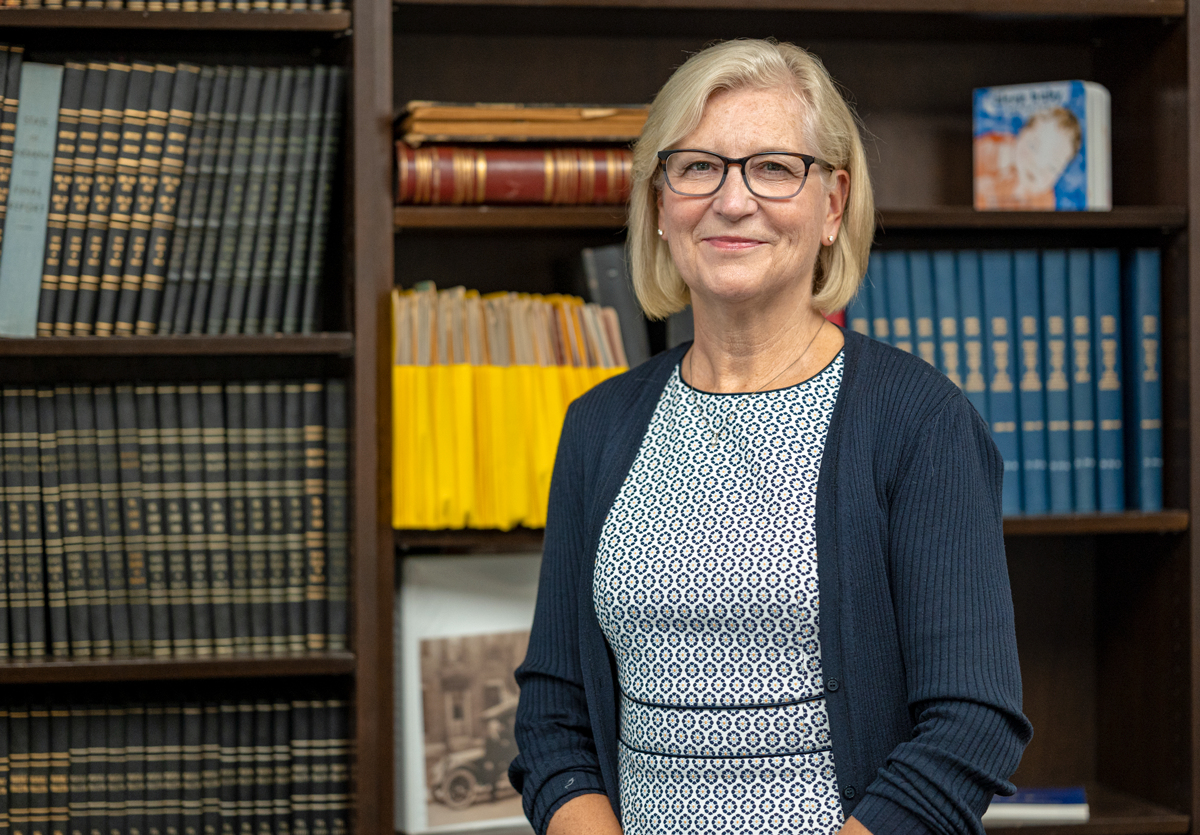 Honoree, Pandemic
Dr. Kristina Box
Indiana State Health Commissioner
Early in the pandemic, Indiana State Health Commissioner Dr. Kristina Box, who spent most of her career delivering babies, was thrust into the spotlight as the state's highest-ranking public health official. For months, she appeared daily alongside Gov. Eric Holcomb in televised press conferences to explain what was happening with the virus in the state and why restrictions were necessary, constantly reminding Hoosiers to mask up, socially distance and wash their hands. While the daily press conferences have ended, Box is still leading the state's COVID-19 response. In an interview with IBJ, she, sometimes tearfully, explained what the past 18 months have been like and what she'll always remember about this time.
At what point in late 2019 or early 2020 did you know COVID-19 would be a serious health concern in Indiana? Do you remember that moment?
My husband and I aren't big New Year's Eve people. We're kind of at home and oftentimes fall asleep before the ball drops, wake up, give each other a kiss and go to bed. That night, I remember hearing on the news the information about this place called Wuhan, China, that was having this outbreak, and they weren't sure whether it was a respiratory virus or what it was, but it was killing a lot of people, and I remember texting my deputy health commissioner, who is our state epidemiologist, Pam Pontones, and I said, "Is this something that I need to be worried about?" And she texts me back: "It's something we're going to have to keep an eye on."
So really, in January, we were keeping in close contact with the CDC. The CDC was already regularly having meetings, we were meeting with the American state and territorial health officers from across the United States, and we already spun up our incident command and were meeting seven days a week here at the State Department of Health.
It was really in late January, early February, we heard the tone distinctly change with the CDC, and it became not about if we're going to get this virus here but when. And then how bad it was going to be. And that change in tone was very sobering, to be honest with you, and very frightening at the time.
Before the pandemic, most Hoosiers probably had little reason to know what the health commissioner even does. When you're out around the state, do Hoosiers now recognize you from the daily televised press conferences during the height of the pandemic?
They do, and that's kind of a level that I don't have a great comfort with to be honest with you. … Honestly, at first, my kids would laugh because I would say [to people who recognized her], "Oh, did I deliver your baby?" And they'd be, like, "Mom, that's not why they recognize you." And a lot of times with the masks on, it's a little bit harder because they saw me on press conferences with my mask off, but they would recognize my voice so, even in line, like at the airport, when we were actually flying out of town for a trip one time, somebody recognized it.
Most people are just really very nice about it.
Dealing with the pandemic I'm sure has been bleak, but have there been high points you'll remember?
Giving those first vaccines to all these elderly Hoosiers that had lost so much—friends and family and siblings and parents—who stood in line and couldn't wait to get it and cried when we gave it to them was pretty incredible and overwhelming.
We tried to make sure that we got as many of our people who had been working day in and day out in the dark and the dreary and in the sadness of all this, so that they could get out and actually see people getting this vaccine and what we felt was going to be that turning point—which, it really is the turning point; it's just a slower turn than what the rest of us would like to see.
I can remember specifically the first time that I went out to a meal in a restaurant was August of 2020—it was our anniversary. … I can remember, a group of about four couples came in and sat down … they were taking their masks off and hugging each other and saying, "Happy Easter." "Happy Fourth of July." "Happy birthday." All these holidays and times that they've missed together … they were now getting to do, which was just really overwhelming for me to see.
What message do you have for front-line health care workers who have been battling COVID-19 for the past 18 months?
I think the most important message is, thank you, from the bottom of my heart. Thank you for standing in the gap, for always being there. Thank you for the long hours, for the extra shifts, for the hand-holding of people who were leaving this life who couldn't have family there, for holding the video screen up and the phone up so families can say goodbye. For continuing to get on phone call after phone call to make sure that we had hospital beds and ventilators and staffing and EMS available as we planned for the surge across the state.
They have been our voices and our hands and our hearts for so many Hoosiers. And we owe them a debt of gratitude that I don't think we'll ever be able to thank them for.
What do you hope Hoosiers will remember about Indiana's response to the pandemic?
I think it's going to be easy to remember the sadness, and the things that you didn't get to do, and the things that you missed and the toilet paper shortages, and the holidays that you missed together. But what I really hope that they look back on is—and what I kept trying to tell my family—to make the most of this time that you have with the ones that you love.
I hope they remember that Indiana came together across all of our government agencies, across all of our external partners … to become … data-focused, evidence-based, and that we would always balance lives and livelihoods, that we would never forget that the decisions that we're making impacted Hoosiers in other ways than just their health.
I just hope that they remember there was a group of very courageous health care professionals, public health professionals, a very, very devoted and dedicated group of people who tried every day to keep the health and safety of Hoosiers at the foremost of every decision they made.•
Please enable JavaScript to view this content.