Times are great right now for Elwood Staffing, a Columbus, Indiana-based temporary-staffing firm that's one of the largest of its kind in the world.
Its approximately 1,200 employees are scattered across 35 states, charged with quickly finding workers for thousands of domestic and international firms, from major car manufacturers to mom-and-pop construction companies.
"Over the last five years, on average, we have hired about 125,000 people per year," said Elwood's chairman and CEO, Mark Elwood. His younger brother, John, serves as president.
The firm was founded in 1980 by their father, Mark Elwood (now largely retired), who holds a doctorate in psychology and originally saw the business (at first called Elwood Consulting) as more of an employment screening service. But that soon changed.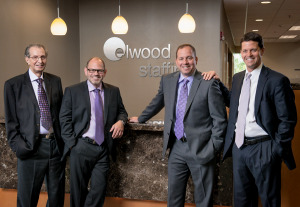 "The first six or seven years, our objective was pre-employment assessment," Mark Elwood said. "But we realized that some of our customers wanted help recruiting and hiring employees. So we evolved from a testing company into a temporary staffing company.
"We provide staffing services to manufacturers, warehouse companies, and other types [of businesses that] need help recruiting and staffing their facilities."
To perhaps oversimplify things, the industry is often used by companies large and small to beef up staffs quickly and mostly painlessly. So, if a widget maker in Wanamaker needs a half-dozen machinists to fulfill a short-term contract, it can hire Elwood Staffing to basically take the job off its hands.
Like other staffing-industry firms, Elwood charges a fee to interview and vet job candidates. Once it locates good prospects, they're hired not by the client's company, but by Elwood, which pays them using cash supplied by the widget maker. Elwood also takes care of things like taxes and various other paperwork.
And perhaps most important, if and when the need for the short-term employees vanishes, Elwood hands out the pink slips.
There's lots of competition. Indeed, to say the staffing industry is highly fragmented almost sounds like an understatement.
"This industry is hyper-competitive," John Elwood said. "It's estimated that there are nearly 20,000 staffing companies across the United States. There's no one company that has kind of gobbled up all the other competition."
According to Staffing Industry Analysts, a think tank for the industry, the biggest of the big dogs worldwide is Netherlands-based Randstad Holding, with revenue of $24.3 billion. The largest U.S. contender is Manpower Group, with $20.3 billion in revenue. Together, the industry's top 100 firms brought in $224 billion in 2019.
"Those staffing firms are the largest players in a global industry worth nearly $500 billion in 2019," Staffing Industry Analysts President Barry Asin said in a news release.
Comeback
In this sprawling ecosystem, Elwood Staffing is, while not the big dog, certainly nothing to be trifled with. In 2020, Staffing Industry Analysts named it the 10th-largest U.S. industrial staffing firm, the 19th-largest U.S. staffing firm overall, and the 49th-largest staffing firm in the world.
It's a position the company managed to retain even in the midst of the pandemic—an event the execs describe in near-apocalyptic terms.
"I remember March of 2020 like it happened yesterday," John said. "I was on spring break with my family in Florida, and you could really sense the pandemic media coverage growing. The last couple days of the vacation, it was like, 'Get me home as fast as possible.' I was scared about traveling and about what was going to happen to the business."
He had reason to worry. For obvious reasons, the temporary staffing industry (after years of economic boom times) was uniquely vulnerable to a calamity that shut down nonessential businesses and forced a large portion of the workforce to shelter at home.
"We had customer after customer after customer calling us and saying, 'We don't need the employees you're providing us anymore,' because their orders for goods and services were just drying up," John recalled.
According to data from the American Staffing Association, temporary staffing employment nationally dropped 33.6% (that's more than a million jobs) year-over-year in 2020's second quarter. Throughout the year, U.S. staffing firms employed 2.5 million temporary contract workers per week, a 19.5% drop from the same time in 2019.
Employment sales totaled $122.3 billion domestically, down 10.5% from 2019. Despite that, staffing companies still hired some 13.6 million temporary and contract employees, with an average employment term of 9.6 weeks.
"While the pandemic took its toll on the economy in 2020, many staffing companies are reporting continued increases in demand for temporary and contract workers in the first quarter of 2021," ASA CEO Richard Wahlquist said.
The Elwood brothers are reporting the same thing—first, a precipitous, pandemic-inspired downturn, followed by a buoyant rebound. COVID put a massive ding in the company's revenue, which dropped from $938.8 million in 2019 to $866.5 million in 2020.
Worker shortage
But even as the economy recovers, it's not all smooth sailing. If anything, the waning of the pandemic has seen the return of a slate of issues the industry has struggled with the last decade. Chief among them: a shortage of workers.
"Ten years ago, if we needed to hire one person, we might screen four or five or six or seven to get the best person," Mark said. "Today, we probably screen in the neighborhood of three to four people for every one person we hire."
There just aren't as many people looking for jobs as in years past, he said. Chalk it up to a decade's worth of economic expansion (subtracting 2020) that's forced ever more employers to fish for staff in the same relatively stagnant labor pool. Another macro issue is the ongoing retirement of the baby-boom generation.
Mark also said recent economic stimulus measures, enacted to help people weather the pandemic, slowed the return to full-time employment.
"It just makes for a smaller group of people who are looking for work and available to go to work," he said. "There just aren't any easy positions to fill right now."
So when do industries cry uncle and simply raise wages?
"That's the $100,000 question right now," Mark said.
One thing employers fear, he said, is that, if they increase pay, their competitors will simply match them, leaving everyone in exactly the same boat as before—but with higher overhead. Manufacturers also worry that raising wages in good times will place them in a precarious position during the next economic downturn.
Not that paychecks, driven relentlessly by supply and demand, haven't ticked upward, anyway.
"I would say most of our clients will adjust their wages two times a year," Mark said. "And in some cases, three times a year. But 10 years ago, we might have a client that didn't adjust their wage more than once every five years. Because people are competing for talent, we are definitely seeing companies raise their wages."
Higher bar
Since Elwood leaders are out there beating the bushes for employees, they're acutely aware of just how hard it is to beef up staffing these days. Mark predicted that, over the next 10 years, demand for qualified workers will continue to increase—as will the rise of workers in non-traditional arrangements, such as contract employees.
It will definitely be a seller's market for employees, but it won't be a proletarian paradise. Folks with great qualifications will do well. Poorly trained or unskilled workers, not so much.
"The bar will get higher for entry-level jobs," Mark said. "For some blue-collar jobs, maybe 30 years ago you just had to be able to do manual labor. But as we go forward, problem-solving and communication skills and some computer skills are going to count for a lot more."
As for the future of Elwood Staffing, the owners have no plans to take the company public. But they do plan to keep expanding.
"Currently, we do just under $1 billion in annual revenue," Mark said. "I would sure hope that, in the next five years, we're at $1.5 billion and making material progress toward $2 billion. That's certainly something we talk about."•
Check out more of IBJ's ranking of Indy's fastest-growing companies.
Please enable JavaScript to view this content.