Some big fish are growing in Indiana's entrepreneurial pond. The question is how they will expand from here.
Potential candidates for launching an initial public offering are local software-makers ExactTarget Inc. and Aprimo Inc.,
both of which filed paperwork for potential IPOs before changing plans during the recession.
The pool also includes Carmel-based Interactions Inc.; Stonegate Mortgage, Health Systems International and Angie's
List, all based in Indianapolis; and West Lafayette companies Endocyte Inc. and QuadraSpec Inc., according to observers of
the entrepreneurial community.
All those companies have something in common: They have recently raised late-stage venture capital. Collectively, Indiana
companies have raised $142.3 million in late-stage venture capital during the last three years—typically the last milestone
before an IPO, according to the Arlington, Va.-based National Venture Capital Association.
But don't expect a wave of new Indiana public companies.
Venture capital can help a company grow quickly, but a company's performance history and future expectations are the
crucial factors behind a successful IPO, said Barnes & Thornburg LLP Partner David Millard, who works frequently with
entrepreneurs. In the recession, with both revenue and profits down, companies may choose to wait until they have better numbers
to report.
"You've got all those companies that were thinking about it. Now the challenge is, 'Do we have a good enough
story to get out?'" Millard said. "Or were we so wrecked in the last quarter of 2008 and 2009 that we're
really going to have to wait until 2011 when we've got our 2010 numbers, which hopefully will be better?"
'No immediate plans'
ExactTarget spokesman Mitch Frazier pointed out that, although an IPO remains an option for the company, there are
no immediate plans to stage one. After all, ExactTarget raised $140 million last year from private investors, and has already
used part of the proceeds to pay for a pair of acquisitions.
"We will continue to aggressively invest those dollars in smart and focused growth as we expand our offerings and bring
them to the market," Frazier said.
Aprimo's position is similar. An IPO may be the ultimate small-business dream, but there's little reason to stage
one and shoulder the extra costs of public reporting—which experts peg at $1.5 million to $3 million annually—if
market conditions aren't optimal.
"The equity markets continue to be volatile and there is no way of knowing how receptive the markets will be to IPOs
going forward. We are, of course, aware of a number of venture-backed companies seeking to go public this year," Aprimo
spokesman Joel Reuter wrote in response to IBJ's inquiry. "We are continually assessing various options
for Aprimo."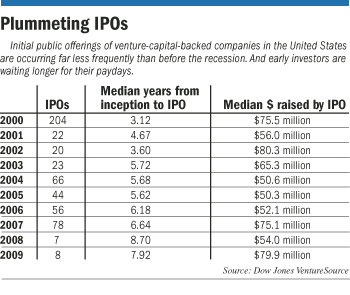 Indiana's situation is no different from the rest of the nation's. There are about
2,000 companies that have been "treading water" during the recession. They've had to put IPO plans on hiatus
indefinitely, said John S. Taylor, research and financial affairs executive for the National Venture Capital Association.
In the meantime, they've been forced to stretch the resources they've already raised and sometimes return to
their original venture capital backers when cash infusions become necessary.
But venture firms are often reluctant to shell out more to shore up young companies that they once thought would be creating
big paydays by now. If venture capitalists can't deliver profits to their investors—typically pension funds, university
endowments and foundations—they can't raise more for new investments.
"The whole ecosystem has been blocked," Taylor said.
IPOs on the decline
There are currently 45 U.S. companies registered with the Securities and Exchange Commission for potential initial
public offerings. In 2000, at the height of the dot-com bubble, 422 domestic companies staged IPOs.
In Indiana, IPOs have always been a rare event. Last year, there were just two. Evansville-based infant-formula-maker Mead
Johnson Nutrition Co. staged a $782 million IPO in February, then promptly moved its headquarters outside Chicago. In its
December IPO, Carmel-based used-vehicle auctioneer KAR Auction Services Inc. raised $300 million.
"In terms of overall climate [for IPOs], it's basically gone from a D-minus to a D-plus," Taylor said.
"The bottom line is, until it becomes sexy again to invest in startups and IPOs and people start getting excited again
about the next company coming along, there's not going to be much activity."
Companies that have successfully gone public recently had three factors in common: a history of several years' rapid
revenue growth, decreasing losses leading toward increasing profits, and low debt, said Scott Sweet, senior managing partner
of Tampa-based IPOBoutique.com.
It was once considered normal for companies to carry a substantial amount of debt they could begin repaying with an IPO.
But "debt right now is the kiss of death," Sweet said.
"The market volatility is way too high for people to gravitate towards inherently risky IPOs by nature," Sweet
said.
Alternatives to IPOs
The IPO situation is particularly difficult for life sciences companies, where Indiana has pinned many of its hopes.
In 2000, an average venture investment of $48 million in a biotech company yielded $280 million from an IPO within four years.
But in recent years, the average investment has increased to $103 million and the average return decreased to just $110 million,
according to research by Dow Jones VentureWire, said Steve Hourigan, director of the Indiana 21st Century Research and Technology
Fund and Entrepreneurship for the Indiana Economic Development Corp.
"The economics of the venture markets are urging an increasing strategy of an earlier sale or strategic acquisition
by a larger biotechnology or pharmaceutical partner, as an alternative to a later or lower-value IPO," Hourigan said.
Building the science, rather than the business, often proves more successful, he explained.
Hourigan still believes IPOs are possible for stars like ExactTarget. But they may be less necessary. Many firms that would
have once considered going public will likely stay private to avoid the increased regulatory cost and scrutiny.
Whether or not they stage IPOs, Indiana has many up-and-coming companies poised to grow fast and earn revenue of $25 million
or more within the next five years. Indianapolis companies backed by the 21st Century Fund, such as Scale Computing, Compendium
Blogware or ImmuneWorks, are good examples, he said.
Thus, Indiana should enjoy robust high-tech job growth, whether or not it sees many IPOs, Hourigan said.
"Growth companies, like ExactTarget, will be blessed with options that best suit their strategy over the near term,"
Hourigan said.•
Please enable JavaScript to view this content.