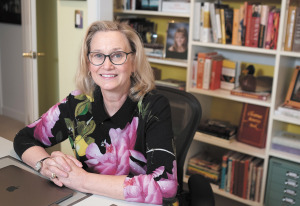 Honoree, Volunteer
Anne Nobles
IU Health Foundation
Anne Nobles was an early champion for integrating individual fundraising entities at 16 IU Health hospitals into the singular IU Health Foundation, which launched in 2018.
Nobles, who retired from a 22-year-career at Eli Lilly and Co. in 2012, started serving on the IU Health board of directors in 2010. She served as chairman of the board from 2014 to 2018.
When the IU Health Foundation was formed in 2017, Nobles was asked to be the liaison between the IU Health board of directors and the IU Health Foundation.
"She laid the groundwork for a young philanthropic operation that has already raised tens of millions of dollars to improve community health and individual wellbeing," wrote Crystal Miller, president of the IU Health Foundation, in Nobles' nomination. "The complex integration of these entities—each with its own history, governing principles and mission—required a clear vision and a commitment to respecting donor intentions."
Nobles joined the IU Health Foundation board in 2018 and served as its chair in 2020 and 2021. Under her leadership, the foundation enjoyed its most successful year yet in 2021 when it raised $28 million, well over its goal of just more than $15 million.
Some of the foundation's highlights during Nobles' tenure as board chair include:
• The launch of a campaign to support the Regional Academic Health Center in Bloomington, a $557 million state-of-the-art collaboration between IU Health and the IU School of Medicine.
• Securing an $8 million grant from the Lilly Endowment to support The Mosaic Center for Work, Life and Learning, a workforce development project in Indianapolis' Near North neighborhood.
• The launch of IU Health's $200 million Community Impact Investment Fund.
• The establishment of The Racial Equity in Healthcare Fund to support initiatives that address health inequities among Hoosiers and advance equitable care for all.
• The Joe and Shelly Schwarz Cancer Center at IU Health North Hospital, which will be funded with a $10 million gift from the Schwarz family.
Nobles said part of her focus over the past few years has been bringing new types of donors to the IU Health Foundation. There are some people who may not be interested in donating to the actual operations of a health system, but they often are interested in learning what they can do to help their community improve health outcomes.
"I really support IU Health's mission to make the entire state of Indiana a healthier state," Nobles told IBJ. "And an important part of that is obviously being able to get the financial resources to be able to support that effort."
In addition to her IU Health board positions, Nobles serves on the Citizens Energy Group board of directors and The Nature Conservancy's Indiana board of trustees. She's been the co-chair of The Indianapolis Prize since 2019.•
Please enable JavaScript to view this content.