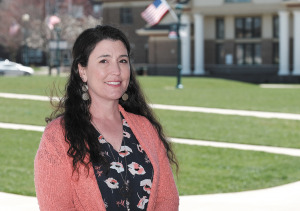 Top Honoree, Non-Physician
Monica Heltz
Public Health Director, City of Fishers
When Fishers became only the third city in Indiana to establish its own health department during the early days of the pandemic, Monica Heltz, who had previously worked with the Marion County Public Health Department, was tapped to direct it.
Heltz, who brought more than two decades of public health experience to the fledgling department, led an impressive response to the pandemic while launching critical components of a health department that included vital records, food safety and permitting, environmental inspections and mitigation, immunizations, and more.
Throughout the pandemic, she's worked hard to keep Fishers residents apprised of new developments. She established a risk rating scale, hosted town hall meetings, developed a strong social media outreach campaign, posted video updates featuring local COVID data, and published FAQs to guide residents facing ever-changing variants, guidelines and guidance.
The department in January 2021 launched a mass vaccination site (the second-largest in the state behind the one hosted at the Indianapolis Motor Speedway) in an empty former Marsh grocery store, which had capacity to administer 1,600 vaccines a day and where more than 96,000 vaccines were administered.
Additionally, her department administered hundreds of vaccines at nursing homes and to homebound residents and led pop-up vaccine clinics at apartment buildings, businesses, places of worship, restaurants and farmers markets.
"Every day, Monica is dedicated to converting non-vaccinated populations to increase their protections against COVID," Fishers Deputy Mayor Elliott Hultgren wrote in her nomination.
Heltz's and the department's efforts have paid off, with Fishers having a high vaccination rate; more than 90% of adults and 75% of eligible children have received at least one dose of the vaccine.
Additionally, the Fishers Health Department's COVID hotline team has answered more than 17,000 calls and notified 117,000 people they had been in close contact with someone diagnosed with COVID. And the department's testing sites performed up to 900 tests daily (accounting for more than 100,000 tests so far) and launched priority testing for schools to keep students' learning in person.
Now, with vaccines widely available and COVID-19 cases dropping, Heltz and her staff are working to build a health department that's highly integrated in the community by establishing relationships with not only other city departments but also outside businesses, organizations and people, and pushing its mission to protect, promote and prevent.
"Our vision is that we'll be able to integrate it kind of into everything … so you can't help but try to be healthy because we make it so easy," Heltz told IBJ. "You know what screenings you're due for and where to get them, and you can take your bike to work if you want and do so safely."
Hultgren called her "a proven public health hero."
"Monica's innovative and comprehensive approach to public health has led to more efficiencies, better support, and transparency for public health beyond COVID-19," he wrote.•
Please enable JavaScript to view this content.