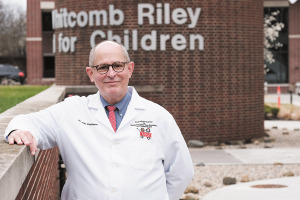 Honoree, Physician
Dr. John Christenson
Professor of Clinical Pediatrics, Indiana University School of Medicine
Associate Director of Infection Prevention, Riley Children's Health
As medical director of infection prevention at Riley Children's Health during the pandemic, Dr. John Christenson's plate was full.
Then came a cancer diagnosis. His own.
When the pandemic hit, he came off clinical service and was fully focused on infection prevention. A few months in, he started experiencing back pain he thought was caused by all the sitting he was doing because he was largely working remotely.
It turned out to be lymphoma.
While receiving treatment, he continued to work, participating in nightly updates on COVID-19 cases, seeing patients virtually and attending every meeting he was needed at. He also assisted doctors across the state through Riley's Doc to Doc program, in which he met virtually with doctors to help them manage pediatric COVID patients and other infectious diseases at local hospitals. It saved families trips to downtown for treatment and allowed more hospital beds to be available at a time they were desperately needed.
He also developed the plans Riley followed for COVID testing and PPE when it became scarce.
"He was truly a calm, guiding light for all of us—always teaching, always reassuring," Dr. Elaine Cox, chief medical officer at Riley, wrote in his nomination. "He did not let that diagnosis define him, nor did he miss a beat."
Christenson said he, like many infectious-disease doctors, has seen outbreaks, mainly influenza, in the past. But those were nothing like COVID.
Now in remission, he said his battle with cancer gave him time to reflect on his life and what he's done. He's found "nothing to regret—that's for sure."
Christenson graduated from medical school in 1981. He told IBJ he was attracted to pediatrics because of the impact he could have.
"Here you have a person who, when ill, you can make dramatically better and allow them to have a lifetime potential of doing great things," he said.
He credits his career in infectious diseases and prevention to good teachers he had during medical school and residency.
He came to Riley in 2001 as a pediatric infectious-disease doctor after spending time at the University of Oklahoma and Primary Children's Medical Center at the University of Utah.
In addition to his work at Riley, he's a professor of clinical pediatrics at the IU School of Medicine Ryan White Center for Pediatric Infectious Disease and Global Health.
Since his time at the University of Utah, he's been involved in travel medicine, doing international educational and health projects in Central America and West Africa.
Some 30 years ago, while working at the University of Utah, he and some colleagues worked with physicians in Guatemala to establish an exchange program.
Since then, he's traveled to Guatemala somewhat regularly to help educate residents and fellows.
A medical library at one of the pediatric hospitals in Guatemala City is even named after him.•
Please enable JavaScript to view this content.