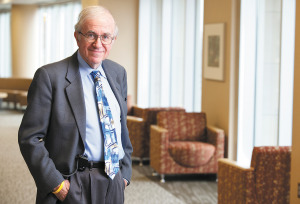 Top Honoree, Physician
Dr. Lawrence Einhorn
Indiana University Distinguished Professor
Livestrong Foundation Professor of Oncology and Professor of Medicine, IU School of Medicine
Member, Indiana University Melvin and Bren Simon Comprehensive Cancer Center
Dr. Lawrence Einhorn knew early on he wanted to be a doctor. His father was a family-medicine doctor whom Einhorn admired, and he wanted to partner in his practice.
But his father's health declined after Einhorn graduated from medical school in 1967, while he was completing his internship and residency at Indiana University. The elder Einhorn retired and moved to Florida, and the younger Einhorn had to rework his life plan.
During his internship, he took an elective in hematology and oncology—essentially the study of blood cancers—and fell in love with the field. After just one month, Einhorn knew what he wanted to be: an academic hematologist oncologist.
"I thought this was a field where advances were being made and were going to continue to be made," he told IBJ. "I don't think any of us in 1973 could have dreamed of—even in our most boyish enthusiasm—what we're able to accomplish in cancer now compared to back in 1973 when we had so few tools to work with."
Today, he's best known for revolutionizing testicular cancer treatment, an advancement that has increased the cure rate in young men from 5% to 10% in the early 1970s to close to 95%. One of his patients was cyclist Lance Armstrong, who was diagnosed in 1996 with Stage 3 testicular cancer that had spread to his abdomen, lungs and brain.
Working as a faculty member in hematology oncology at the Indiana University School of Medicine since 1973, Einhorn was looking to make small changes in treatment for several cancers, including testicular, that might lead to better outcomes.
Testicular cancer was so rare at the time, a doctor might see only one or two patients battling it in a year. But a perfect storm brought many more to Einhorn's door. He was working alongside Dr. John Donohue, a urologic surgeon who was treating metastatic testicular cancer with surgery. Donohue's work was bringing testicular cancer patients from all over the country to Indiana University.
Einhorn had an idea. He had read a study about the experimental drug Cisplatin, which contains the metal platinum. In a phase I study, the drug had been used to treat a wide range of cancers. The results weren't great because it caused terrible side effects, including nausea, vomiting and even kidney failure. But it was killing cancer cells in a smattering of patients with testicular cancer who had been treated with chemotherapy.
Einhorn thought adding platinum to the standard chemotherapies bleomycin and vinblastine might make them more successful. So in 1974, he launched a phase II study to test that theory.
The results? He had found a combination that could cure testicular cancer.
Dr. Patrick Loehrer, distinguished professor at the IU School of Medicine, met Einhorn in 1978 when Loehrer was a medical student taking an oncology elective that cemented his interest in it.
"What Larry had done—taking a disease that had a 95% death rate and made it now a 95% cure rate—has not been done anywhere else on the planet for any other cancer," he said. "It's extraordinary."
Today, Cisplatin is used in the initial treatment for nearly a dozen types of cancer. And a current area of focus for Einhorn is supportive care and survivorship.
Einhorn, who turns 80 in September, still sees patients diagnosed with testicular or lung cancer from around the country a few days a week.
When he's not doing clinical work, he's teaching the next generation of oncologists.
Asked if he plans to slow down soon, he said he's lucky to be healthy, which allows him to keep going.
"I love what I do. I love teaching. I love doing research. I love seeing patients. But nothing lasts forever," he said. "I will probably have some day where I'm no longer able mentally or physically to do this, but thankfully I'm not there yet."•
Please enable JavaScript to view this content.