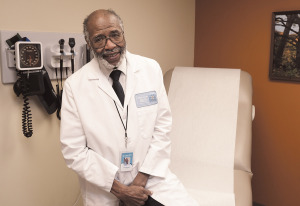 Honoree, Physician
Dr. John Woodall
Open Door Health Services-Anderson
Dr. John Woodall had been retired from a 45-plus-year career for only a few years in 2018 when a former co-worker asked if he'd be willing to pick up a few shifts in Open Door Health Services' urgent care clinic in Muncie.
At first, Woodall said he thought he'd stay retired. But then, "I thought only so much television is enough. I stopped watching television and started doing more medicine," he told IBJ. "I found it exciting."
In 2019, he joined the health center's Anderson family practice, where his "impact on clinical outcomes is as extraordinary as his tenure," wrote Suzanne Clem, the not-for-profit's vice president of community engagement, in his nomination.
Under Woodall's clinical leadership, the Anderson site has improved in 11 of 13 health measures, which are reported annually because Open Door Health Services is a federally qualified health center.
Visits are up 17% since his arrival, even throughout the COVID-19 pandemic, when many people have avoided health care settings if they could.
"Patient comments drive home his impact and illustrate a care that's not merely diagnoses on a chart but that impact whole-person health," Clem wrote.
Among patients' comments about Woodall: "The best doc in the country," and "He really listens and makes you feel you're not just a number."
Woodall, who was raised in Anderson, graduated from the Indiana University School of Medicine in 1969. He served in the U.S. Air Force from 1970-1972 before joining his mentors, Dr. Alvin Bridges and Dr. Frank Campbell, at their family medicine practice.
"I used to say we took care of families from the womb to the tomb," he said.
Woodall credits his father and a high school biology teacher for his decision to become a doctor. As a boy, he hunted rabbits with his father and was interested in the organs and how they worked. Later, his high school biology teacher would provide him extra work after he took interest in the subject.
He practiced medicine about a block from where he was raised until he briefly retired in September of 2014. Now, he's practicing part-time, an endeavor he finds rewarding.
"It gives you something to get up [for] in the morning and start the day off," he said.
Last year when COVID-19 vaccines became available, Woodall and his wife Janet took to the neighborhood where he grew up to encourage residents to get the COVID-19 vaccine.
They went door-to-door wearing signs declaring the reason they got vaccinated and answered questions.
At first, Woodall said, he was disappointed by the number of people who said they didn't plan to get vaccinated. And while he and his wife weren't able to persuade everyone to be vaccinated, they know they changed some minds.•
Please enable JavaScript to view this content.