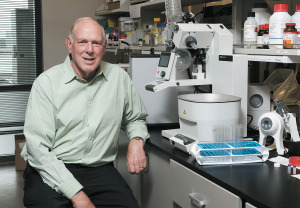 Honoree, Advancements In Health Care
Philip Low
On Target Laboratories
Since the early 2000s, Philip Low, chief science officer and founder of On Target Laboratories and Purdue University's presidential scholar for drug discovery, has been researching ways to use fluorescent dye during a patient's cancer resection surgery to spot cancer cells that might have otherwise gone undetected.
He was developing targeted drugs to deliver therapeutic and imaging agents to cancer cells when he found that cancer cells had "an enormous appetite" for the vitamin Folate.
Exploiting that appetite, he began linking folate to fluorescent dye and, initially, injecting it into animals with cancer. The agent homed in on cancer cells, which glowed brightly, while adjacent, normal cells remained dark.
But when he presented it as an option to surgeons, their answer was almost always along the lines of, "We're pretty good at finding cancer. We don't need this," he said.
It wasn't until a doctor from the Netherlands agreed to run a clinical trial with Low that then led to a study published in Nature Medicine in 2011 that real momentum began building.
Low disclosed his innovation to the Purdue Research Foundation Office of Technology Commercialization, which applied for patent protection on the intellectual property and licensed it to West Lafayette-based On Target Laboratories.
Last November, more than 15 years after that original discovery, the imaging agent—which On Target Laboratories released under the brand name Cytalux—received approval from the U.S. Food and Drug Administration to be used in ovarian cancer surgeries.
The imaging agent is delivered via an IV injection one to nine hours before surgery. Cancerous lesions are then illuminated with near-infrared light during surgery.
During the phase 3 clinical trial, Cytalux enabled surgeons to find at least one additional tumor that otherwise would have been left behind in 27% of the patients.
Now, the drug is being tested in patients with other types of cancer, including lung cancer. In January, On Target Laboratories completed a phase 3 trial investigating the use of Cytalux in patients suspected of having lung cancer.
Low said it's rare for an academic to have a drug approved by the FDA—to see his or her work make it to the bedside—and in the past six months, he's had two (including a targeted radioligand therapy for patients with prostate cancer).
Asked why so much of his work focuses on cancer, he said it's because he likes to do research on things that matter.
"I like to do things that have the potential to impact humankind," Low told IBJ. Cancer "is a very important problem facing humanity, especially as the population ages. … If we can do something to reduce this mortality and the associated morbidity, I think we can feel comfortable that we've made a contribution."•
Please enable JavaScript to view this content.