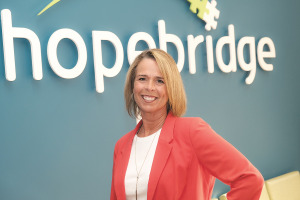 Honoree, Community Achievement In Health Care
Hopebridge Autism Therapy Centers
Kim Strunk had been working as an occupational therapist when she founded and opened her first autism therapy center in 2005 in Kokomo.
She had been practicing for many years in early intervention, serving children from birth to 3. Her caseload at the time seemed to be full of children who had behaviors associated with autism and who needed more therapy than what she could offer as an occupational therapist. Strunk saw parents running their children from place to place to receive the care they needed—and she thought there had to be a way to make that easier.
She started doing research to learn more about what type of intensive therapy existed and learned about applied behavior analysis, or ABA. But at that time, the therapy—despite being used to help children with autism since the 1960s—wasn't mainstream. Insurance companies weren't covering it and few ABA centers existed.
"I really felt like ABA was a nice complement to occupational and speech therapy. … I decided this was going to be a good solution for the families that I was working with," Strunk said. "That's really how it all started."
She opened Homefront Learning Center, bringing together multiple forms of treatment and therapy under one roof—now referred to as the 360 Care model.
It was the first center of its kind in Indiana.
"This alleviated stress on families and multiplied results by creating unity in a child's plan of care," Herb Senft, chief administration officer, wrote in his nomination.
Seventeen years and a name change (from Homefront Learning Center to Hopebridge Autism Therapy Centers) later, the company operates 115 locations across 12 states. In Indiana, Hopebridge has 19 centers, including seven in Indianapolis.
It serves 23,600 children across the United States every year, making it one of the largest autism therapy providers in the country.
"Kim's work continues to bring new hope to thousands of families each and every day," Senft said.
Strunk said when she opened that first center, she hadn't thought about opening any others. But the need was there.
"My heart was to try to help the kids that were right there in my community," she said. "Once I started seeing that we were starting to attract more people, I realized the need was much bigger. … This is not just an issue that our country faces. This is truly a global issue for families and children with autism."
She said working with families across the country is "a very humbling experience because these families are taking you into their lives. You're sharing a part of their life with them and they're trusting their children—their most precious possession—with you."•
Please enable JavaScript to view this content.