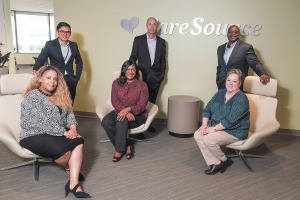 Honoree, Community Achievement In Health Care
CareSource
CareSource, a not-for-profit Medicaid-managed care plan headquartered in Dayton, Ohio, has been working since 2018 with the Indiana Department of Correction and the Family and Social Services Administration to help inmates leaving prison successfully reenter their communities.
In January of that year, CareSource designed a pilot program that has now expanded to all 15 Indiana prisons, where it has conducted 145 pre-release education classes and completed more than 700 health-care-needs screenings and more than 500 transition plans.
CareSource says it was among the first programs of its kind in the country.
The CareSource Reentry Program takes a case-management approach, in which CareSource criminal justice liaisons begin working with offenders while they're still in prison (60-90 days before release) by conducting classes to educate them on the Healthy Indiana Plan.
After each release, the reentry team creates an individualized plan for the ex-offender based on medical, behavioral and social needs. A health-care-needs screening is completed, primary medical care is established, and the member is linked to other needed services, including behavioral health.
CareSource can even help ex-offenders schedule medical appointments and arrange for transportation if that's a problem.
"The ultimate goal is creating self-sufficiency for every returning citizen," Hannah Krafka, senior media relations specialist for CareSource, wrote in her nomination.
Steve Smitherman, CareSource president, said the program is an extension of its mission to improve the health and overall well-being of its members.
The company has a Life Services program in which life coaches work alongside CareSource members to break down barriers that might stand in their way of being healthy, such as employment, housing, food and nutrition, and health equity. That relationship can last two years or more.
Ex-offenders leaving prison are also offered a life coach, and CareSource has two other programs former inmates can take advantage of: a driver's license reinstatement program and an expungement program for nonviolent offenses.
The CareSource Reentry Program is offered to any inmate who is eligible for Medicaid, even if the inmate is not a CareSource member. That means, in some cases, CareSource is assisting its competitors' members, Smitherman said.
And the program seems to be paying off. Members engaged in the reentry program have 23% fewer visits to the emergency room than the general Healthy Indiana Plan population, according to CareSource data.
The program has been so popular, inmates who won't be released for another year are already reaching out to CareSource to get involved, Smitherman said.
"These individuals are just looking for someone to help guide them through all the difficulties of getting out of incarceration and back to society and committing themselves to finding jobs, finding a house, finding food, clothing, all those types of things," he said.
Now, CareSource plans to introduce a similar program in juvenile facilities, starting with a pilot it hopes to launch at Pendleton Juvenile Correction Facility.•
Please enable JavaScript to view this content.