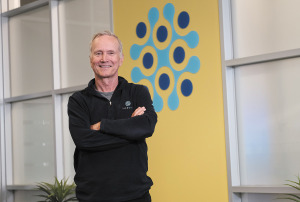 Top Honoree, Advancements In Health Care
Dr. Don Brown and LifeOmic
Dr. Don Brown, a serial entrepreneur, launched his fourth startup, LifeOmic, in 2016 to advance the development of precision health care.
The company's product, the Precision Health Cloud, is a software platform that integrates genomics, electronic health records, imaging, demographics and other data sets. It indexes that data, which can then be used to make clinical decisions based on a patient's individualized health data.
For roughly five years, the Indiana University Health Precision Genomics Program has used the Precision Health Cloud to combine a variety of data sources to improve molecular tumor diagnostics and inform treatment plans for patients with cancer.
The program offers comprehensive genomic profiling and interpretation for late-stage cancer patients.
Using the Precision Health Cloud, clinicians can tailor therapy to each patient's unique cancer and genetics. That means IU Health has been able to better provide the right drug to the right person at the right time, wrote Candace Luebbehusen, senior marketing manager for LifeOmic, in her nomination.
"Large-scale studies in cancer genomics have demonstrated that, while there are shared drivers between different tumors, each patient's cancer is quite unique," she said. "Even patients who seemingly have the exact same diagnosis, demographics and exposures will have different aberrations on the molecular level."
Using the Precision Health Cloud, the IU Health program last year focused on triple-negative breast cancer, and doctors were able to significantly reduce the time spent interpreting each patient's genetic data, enabling the program to scale precision medicine efforts to more patients.
The Precision Health Cloud also helped identify a rare genomic mutation as the solitary driver for a patient's metastatic Cholangiocarcinoma, a bile duct cancer, which allowed the precision genomics team and the patient's oncologist to identify a drug treatment specific to the rare genomic alteration.
"With this platform, the oncology teams at IU Health will be able to treat more patients in a shorter time period and continue to alter the trajectory for cancer patients for the better," the nomination said.
Chris Fausel, director of pharmacy for precision genomics at the IU Health Simon Cancer Center, said the precision genomics program was just getting off the ground when LifeOmic launched. The program was looking for a way to capture all the genetic info it was receiving from patients' lab reports and put it in a database so "we could study, learn and get better at this," he said. Now, there's a well-functioning, practical and useful database that researchers in the precision genomics program can query at any time to look for trends.
"We wouldn't have had the capacity ourselves at the medical school to come up with a database like this," Fausel told IBJ.
Brown said that, in the past year, other health care systems—including the University of Utah—have started using Precision Health Cloud.
Brown, who has steered three software companies from startup to sale, said health care is "getting to be more and more about big data."
"It's incredible the different types of data that we can gather from you that give us insight into your disease risk and your current state of health," he said.
Precision Health Cloud is just one of LifeOmic's precision health solutions designed to bring health care into the 21st century. The company has also launched several mobile apps and solutions aimed at improving patient experience.
"Overall, it's the ability to have the potential to bring health care to more people," Brown said. "That's really what excites me—bringing automation, help making doctors more effective but extending the reach out into the broader community."•
Please enable JavaScript to view this content.