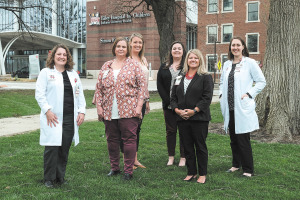 Top Honoree, Community Achievement In Health Care
Riley Children's Health
While Riley Children's Health was managing a surge in cases of COVID-19 and RSV late last summer, team members faced an additional challenge: caring for sick children who were very far from home.
In August, a team of Riley physicians, advanced practice providers and nurses began making plans to provide care to hundreds of minor refugees after their families evacuated Afghanistan to escape the Taliban's takeover of the country. But their care went beyond treating illnesses.
From September through December, the Indiana National Guard's Camp Atterbury training base served as temporary housing for thousands of refugees who assisted the United States during its 20-year war in Afghanistan and were resettling in the country. And Camp Atterbury called on Riley to provide the health care young refugees needed.
Refugees at Camp Atterbury accounted for nearly 150 emergency room visits at Riley, and about 70 patients required longer inpatient stays. The first patients arrived in the emergency room on Sept. 3 and the last was admitted at the end of December.
Many children were suffering from dehydration and malnourishment while others had long-standing chronic illnesses or congenital abnormalities requiring inpatient treatment.
Among the patients treated were a 5-year-old with meningitis who required surgery, a 20-month-old with bilateral kidney stones who needed a urologic procedure to prevent renal failure, and a 14-year-old who underwent open heart surgery to treat a heart defect called aortic valve stenosis.
The Riley team converted a unit at the children's hospital into a sort of sanctuary for the families of children who required longer hospital stays.
Seventy nurses prioritized making families feel safe, supported and understood. They studied Afghan culture, used a video language interpreter system to communicate in patients' native language and translated dining menus using pictures. Customary fruit and tea were served.
The staff even ensured families' spiritual needs were met, providing prayer rugs and Qurans.
And it set up a community room to provide an intimate space for families to gather and feel connected.
Nurse manager Nicole Klein and hospitalist Dr. Rachel Peterson led the team charged with caring for these patients.
For Klein, it was personal. Her father and brother both served military tours in Afghanistan, and she couldn't help but wonder whether some of the refugees arriving here might have been among the Afghan people who helped Americans during the war.
"So how amazing that, in turn, I could help their family and their children? It was something that just really spoke to me," she said.
Peterson said Riley's goal was to do whatever it could to help children and their families because it was the right thing to do.
It was a "true privilege" to provide that care and show the families some Hoosier hospitality, she said.
"I will never forget this," Peterson said.
It came down to a basic humanitarian effort, Klein said. The families were frightened and in an unfamiliar place. To help them transition and make them invested in the care Riley was providing, the team needed to reach out in ways that were meaningful.
"To me, it was just meeting the basic needs of those patients. It's just different than the typical patient population," she said.
Chief Medical Officer Dr. Elaine Cox said she's proud of the extra effort the team put into caring for those patients.
Because Riley treats children, the care it provides has to focus on the whole family unit, she said.
"Medicines and treatments are sometimes curative, but there's a lot more to healing than just those things," she said. "What matters to them has to matter to us," she said.•
Please enable JavaScript to view this content.