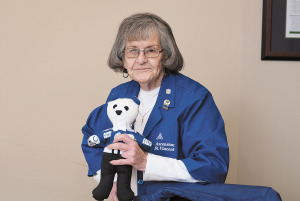 Top Honoree, Volunteer
Sally Freeman
Ascension St. Vincent Anderson
Sally Freeman's goal is to hit 10,000 service hours at Ascension St. Vincent Anderson, where she's volunteered the past 30 years.
She's got about 500 hours to go.
Freeman, who turns 90 in July, started volunteering at St. Vincent after her husband died in 1999. Her only child was living in South Carolina and, "I just didn't have enough to do," she told IBJ.
"I'll tell you, I was bored. I had retired," she said. "I'm almost 90 years old. I've got to stay busy."
Over the years, her volunteer duties have changed several times (she's worked in the hospital gift shop and at the main information desk), but since 2009, she has been a hospitality volunteer in surgical services. She greets patients, takes them to the pre-op area, directs families to post-op after their loved one is out of surgery, and helps keep the waiting rooms neat and tidy.
"I can always hear Sally's voice or her laugh when I round the corner to surgery," Elizbeth Hart, manager of Volunteer and Mission Services, wrote in her nomination. "She is a true inspiration to all of us."
Additionally, Freeman has sewn baby blankets for the Healthy Families program, a home visitation program that promotes healthy families and healthy children through a variety of services. She's also sewn walker bags for the rehab unit and hats for babies in the labor and delivery unit.
Myra Hankins, volunteer administrative coordinator who has worked with Freeman for about a decade, said she'll do just about anything that's needed, from putting files together to sitting with people who just need someone to talk to.
"She's very dedicated. She's a no-nonsense type of person, so if a job needs [to be] done, she gets in there and gets it done," Hankins said.
Volunteers like Freeman play a big role at the hospital, helping associates with a variety of tasks.
"I don't know how we would maintain without them," Hankins said. "Some people may think it's a small, itty-bitty thing, but it is so huge. They're always smiling, upbeat. They're a real asset to us."
Perhaps Freeman's biggest volunteer undertaking is her work with Love Bears of Madison County, an organization that began in the late 1980s to sew bears to provide comfort for children at area hospitals.
Freeman joined in 1993 and eventually took over leadership of the group in 2013, when Love Bears took over her life, she said. At the organization's prime, it was sewing 1,000 bears a month that were delivered to St. Vincent Anderson's emergency room, as well as to Community Hospital Anderson and St. Vincent Mercy Hospital in Elwood. Freeman became known as "The Bear Lady."
"I met so many people at each delivery station," Freeman said. "It was a wonderful group that found such joy in using their sewing skills to make others happy and to feel our love."
Hankins said Freeman was instrumental in that program's expansion to other area hospitals.
"She's a neat little lady," she said.
Freeman said she'll keep volunteering at the hospital as long as she can because she loves it.
"I'm a talker. There's just so many nice people I get to meet," she said. "I missed people after I quit working. I need people, really."•
Please enable JavaScript to view this content.