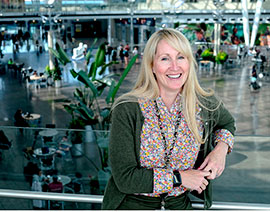 The Indianapolis Airport Authority, which operates Indianapolis International Airport, has taken a multi-prong approach to recruiting, training and developing talent from the community it operates in.
In the past several years, the human resources department has implemented new programs aimed at providing education and mentorship opportunities to employees across job types.
"The IAA Human Resources department's goal is to make education possible for all employees without enduring financial hardships," Mario Rodriguez, executive director of the airport authority, wrote in his nomination. "This will help support the goals of employees while creating pathways for talent, making education possible to equip employees with the skills needed to advance into many roles within the organization."
Since 2021, Indianapolis Airport Authority's part-time and full-time employees have been eligible for up to $5,250 in tuition assistance annually, effective day one of employment.
While employees can get tuition reimbursement for any school they choose to attend, the airport has deferred-payment agreements with Indiana Wesleyan University and Ivy Tech Community College that allow the airport to pay the schools directly so employees don't have to pay the cost upfront and wait to be reimbursed. The airport hopes to extend those partnerships to other schools.
Currently, five employees are taking advantage of tuition assistance through Indiana Wesleyan or Ivy Tech, Rachel Stevens, senior director of human resources, told IBJ. Over the last several years, about 30 have taken advantage of tuition assistance in general.
"It really has changed how some of these employees are able to afford going to school, because you're talking about a couple thousand dollars per semester upfront that can be a hardship for some employees," she said. "And these agreements allow us to help employees with that hardship."
Stevens said it's important to the airport that its employees have the skills they need to be successful, whether it's a professional success or personal success.
"The world doesn't stand still," she said. "So, the work that we do doesn't stand still. If we're not continuing to provide opportunity to our employees to upskill, then we're going to be in a [deficit]."
As for mentoring, the airport since 2018 has offered an internal mentorship program to connect up-and-coming talent with executive leadership within the airport—and, since 2021, outside of it as well.
Through monthly meetings, employees can learn more about leadership and development opportunities.
"Having an opportunity to sit with maybe an executive that [has] only talked to you once or twice and now [the employee is] meeting with them on a monthly basis and asking whatever questions they want to can help really open doors as well as open minds to what is possibly out there for them," Stevens said of the mentees.
In 2021, there were 37 participants in the mentorship program with an average of 15 hours of mentorship occurring per month.
That year, the mentorship program was added to the airport's internship program curriculum to give students an opportunity to have meaningful relationships with IAA employees and to gain relevant workplace knowledge and professional guidance.•
Check out more HR impact award honorees.
Please enable JavaScript to view this content.