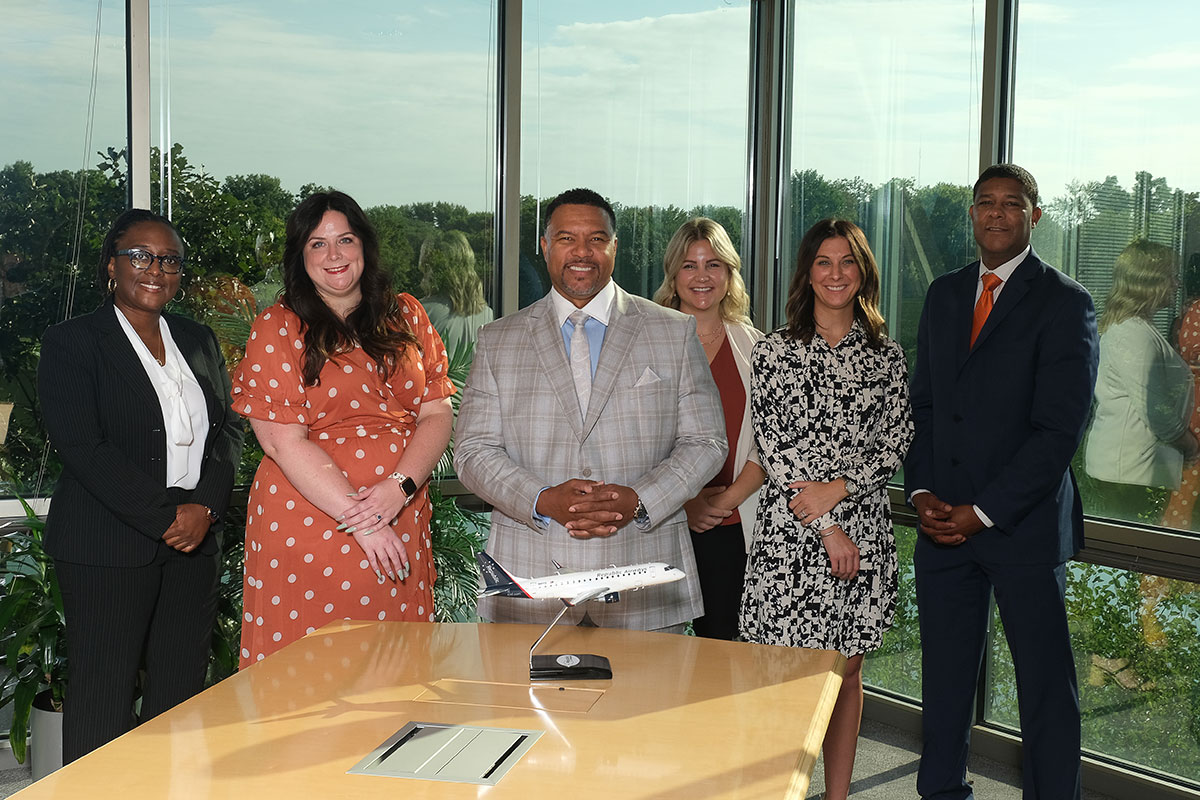 In recent years, Republic Airways has made a concerted effort to recruit more women and people of color and to eliminate barriers that might stand in their way of achieving at the company.
Rob Lowe joined Republic as vice president of people and culture in June 2021 to help strengthen the company's HR functions and also to bring aviation to schools that serve students from marginalized backgrounds.
Since then, the DEI and talent-acquisition teams have implemented several programs and initiatives related to diverse hiring and recruitment.
Since June 2021, Republic Airways and its Lift Academy have engaged with more than 2,000 high school students across the state through recruiting events, like job fairs. "That's just amazing," Lowe said. "Not all diverse candidates, but a big portion of what they've been doing is focusing on that."
Created partnerships with four historically Black colleges and universities with aviation programs. The initial goal was to create a connection with the schools and spend time on the campuses recruiting and then to provide scholarship money to students seeking aviation-related degrees. The company is also working with various student organizations—including Women in Aviation, the National Gay Pilots Association and the Organization of Black Aerospace Professionals—to provide scholarships.
Sarah Scheffel, senior manager of talent acquisition, told IBJ the company is being more intentional in its recruitment efforts and "not just going where we have historically gone or are comfortable going."
The company also:
Participates in Providence Cristo Rey's corporate work study program, hosting one student each year to gain work experience as a Republic Airways associate.
Planned the state's first ever Aviation Career Summit, which will take place in October, for middle, high school and college students as well as job seekers and career changers to be exposed to the world of aviation and to have opportunities to build relationships with various universities, companies and organizations here and outside Indiana. As part of that, Republic has been visiting counties to spread the word and let local leaders know about the summit and to get students excited about careers in aviation. More than 1,000 students are expected to attend.
Is in the process of launching a campaign to raise $24 million to help 300 central Indiana students of color start a career in aviation, either through the Lift Academy or by attending an Indiana school with an aviation program or one of the HBCUs Republic has partnered with.
"The reason why that's so important is, the No. 1 barrier to entry for many people—let alone women, people of color or people from marginalized backgrounds—is cost," Lowe said. "The cost to become a pilot is anywhere between $75,000 and $95,000.  … Which is why we really have to make a conscious effort to try to eliminate some of those barriers to access."
Lowe said his team's efforts are important for several reasons, one being that studies show the more diverse companies are, the more profitable and productive they are. Another is that the organization should reflect the community it works in.•
Check out more HR impact award honorees.
Please enable JavaScript to view this content.