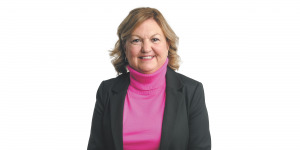 President, Indianapolis Airport Authority Board of Directors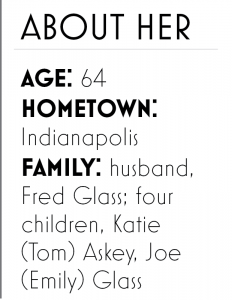 Achievements: Barbara Glass has been on the Indianapolis Airport Authority board for seven years, six of which she's served as president. She was appointed to the board by Indianapolis Mayor Joe Hogsett in 2016 and is its first female president. She has an extensive career in public service, having served in the administrations of former Indiana governors Evan Bayh, Frank O'Bannon and Joe Kernan and former Indianapolis mayors Bill Hudnut and Bart Peterson. Recent achievements include helping guide the airport through challenges related to the pandemic, working on behalf of Indianapolis International Airport with the city of Indianapolis to help facilitate economic development and job growth, and raising airport employees' starting salaries. In his nomination, Mario Rodriguez, executive director of the Indianapolis Airport Authority, wrote that Glass has also played an integral role in diversity, equity and inclusion work at the airport. "Barbara has been instrumental in developing and sustaining a diverse and inclusive airport culture, deeming it more important than ever in today's climate," he said. "Through diversity, inclusion and equitable access, Mrs. Glass has helped strengthen a commitment that already existed within the organization and solidified its future."
Career track: Upon graduating from what is now the Indiana University Kelley School of Business, Glass worked for the city of Indianapolis, helping to administer a federal job training program before she moved to Detroit to work for the U.S. Department of Defense. She then returned to the city and worked in Hudnut's administration as part of the Crime Watch program. She joined Bayh's administration when he was elected secretary of state and later left the position to serve as Susan Bayh's scheduler during his run for governor. After Bayh's election, she served in the state Department of Personnel, focusing on issues relating to the transition and later as a senior staff person on the governor's Government Efficiency Task Force. She was eventually appointed to the Indiana Alcohol and Tobacco Commission, where she served as vice chairman for 12 years. After leaving state government, she has worked as a consultant for a variety of entities and projects, including the Health and Hospital Corporation of Marion County, The Mind Trust, Peterson's Crime Prevention Task Force and the Eli Lilly Foundation.
Giving back: In addition to her government service, she also chaired the St. Thomas Aquinas School board.
Mentors and mentoring: "I have always promoted and mentored women in the workforce," she said. "I have tried to help other women balance their home and work life."
Work/life balance: "It is much easier now that my children are grown," she said. "When they were young, I just juggled like every other working mother did."•
Check out more Women of Influence honorees.
Please enable JavaScript to view this content.