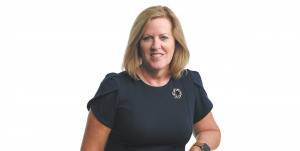 Executive Director, Indianapolis Bar Association and Foundation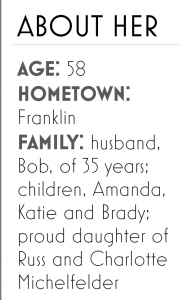 Achievements: Julie Armstrong has been executive director of the Indianapolis Bar Association and Foundation for 27 years. And in March 2020—as the pandemic shut the world down—the bar was moving to a new location. At the same time, COVID-19 challenged the strategic direction of the organizations. "Rather than spin and sputter, the bar rose to the challenge, providing leadership and information to a legal community undergoing drastic and immediate change," Armstrong said. "Since that time, IndyBar leaders have continued to deliver value to the legal community and the residents of central Indiana while growing membership and impact even more."
Career track: Armstrong came to the association and foundation from the fraternal world, having spent several years as assistant executive director of Carmel-based Zeta Tau Alpha. Before that, she worked for the Indiana Senate as a legislative aide. "Of course, that was decades ago," she said.
Giving back: "Working as the director of a charitable organization limits my ability to give fundraising assistance to other organizations, so much of my work has been with organizations related to my children and association management," she said. "I have held nearly every position possible with the National Association of Bar Executives, including president." She's been president of the Conference of Metropolitan Bar Associations and a member of the oversight school commission and president of the PTO at St. Monica Catholic School, and she's also served on the advancement committee of Bishop Chatard High School. She currently serves on the board of Shaw-Burckhardt-Brenner Foundation.
Mentors and mentoring: "Having been in my role at IndyBar so long, I've had the benefit of watching and learning from so many others, so I try to impart those experiences within our IndyBar team. I'm also fortunate to serve as a docent for the National Association of Bar Executives, assisting new CEOs/executive directors in navigating their new role as bar association professionals," she said. "Of course, the biggest role in mentoring that I have is being Mom to our three adult children. I'm immensely proud of them, but I'd like to think I can still help guide them until I'm gone."
Work/life balance: "I don't think life is ever really in balance. Whenever I've actively tried to find balance, I've instead left myself feeling like a failure. Instead, I try to give myself permission to tip the scale one way or the other, but never too often in the same direction. My grown children have made it a point to let me know that they never felt overlooked or unsupported, so I guess it worked out alright."•
Check out more Women of Influence honorees.
Please enable JavaScript to view this content.