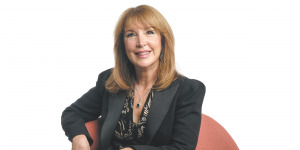 General Counsel and Corporate Secretary, Elanco Animal Health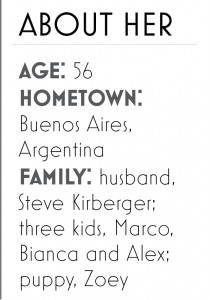 Achievements: Marcela Kirberger, who was born in Argentina and earned a law degree at Catholic University of Argentina, has been in her position with Elanco for 15 months. As general counsel and corporate secretary, she's responsible for legal, compliance and privacy, corporate affairs, ESG, and enterprise risk management. Recently, she's helped integrate Elanco and Bayer Animal Health (acquired by Elanco) lawyers and other associates around the world behind a "common vision for the global legal, compliance and corporate affairs function." Those factors "are right at the intersection of our company accomplishing great things," she said, "and that is because we have adopted and modeled 'ownership' and 'enterprise leadership' mindsets that permeate everything we do."
Career track: Before joining Elanco, Kirberger had a long career with Fortune 500 life sciences companies, including Novartis, Roche and Danaher, in U.S., regional and global leadership roles. Before Roche, she lived and worked in Germany as global general counsel and chief compliance officer for Leica Microsystems (a Danaher company), with global headquarters in Wetzlar (near Frankfurt). Before Leica, she held several senior executive positions with Novartis and Sandoz (Novartis' generics and biopharmaceuticals arm) in the United States and abroad, including as global compliance officer for Sandoz and global head of legal for Sandoz Biopharma.
Before she joined the Novartis companies in 2006, she was a securities litigator at Lowenstein Sandler in New Jersey.
Giving back: She is a member of BioCrossroads Indiana and recently joined the board of the Indiana Chamber of Commerce.
Mentors and mentoring: Kirberger said she mentors and supports many people she's met "along the way." Some are team members from previous roles; others are candidates she's met through interviews. Several she met through the Hispanic National Bar Association programs for future general counsel and some are students at Rutgers Law School. "Guiding and helping others move forward in their careers and lives is one of my biggest joys," she said.
Work/life balance: "I would say more than 'balance' is 'integration,'" she said. "I love what I do, and work is not an obligation or a chore at all for me. I find meaning in what I do, and I'm lucky that I have flexibility in my work that allows me to spend time with family and friends and doing the things that I like while always moving the needle and having a positive impact on my professional life."•
Check out more Women of Influence honorees.
Please enable JavaScript to view this content.