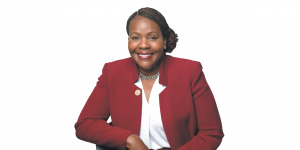 State Representative, Chair of the Indiana Black Legislative Caucus, Indiana House of Representatives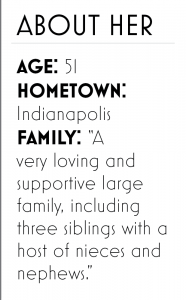 Achievements: State Rep. Robin Shackleford, who was elected the House District 98 representative in 2012, serves as ranking minority member of the House Public Health Committee. She is also on the Courts and Criminal Code Committee, and the Financial Institutions and Insurance Committee. Shackleford is also chair of the Indiana Black Legislative Caucus, a caucus of Black lawmakers that works to develop policies and pass laws that will positively impact minority communities throughout the state. Outside of the Statehouse, she is an independent life and health insurance broker. She's proud of the collaborative work she participated in to pass House Bill 1006 in 2021, which creates more transparency and accountability in policing. This year, as co-chair of the Legislative Civility & Equality Task Force, she played an integral role in requiring all members of the Indiana General Assembly to be trained annually in civility. "This was a crucial step in addressing implicit bias within our membership," she said. "And ensuring the Indiana Legislature doesn't intentionally pass discriminatory laws."
Career track: Shackleford's public service career began with an unpaid internship with the Indiana Democratic Party while she was in graduate school. There, she met several young professionals working on campaigns and later obtained a legislative assistant position at the House of Representatives. That's where she met her mentor, former Rep. Bill Crawford, who would later ask her to run for his seat as he prepared for retirement. She was previously a project manager for both Crowe Horwath and Engaging Solutions consulting firms and has worked as a policy and research specialist for the Indiana Health Care Association. And Shackleford worked for former Indianapolis Mayor Bart Peterson as diversity affairs director.
Giving back: She serves as board president for Pathway Resource Center, a not-for-profit that has served more than 100,000 community members in the past 20 years through affordable housing, transportation and self-sufficiency programs. She also co-hosts the annual 5K Shackleford Steps to Recovery with the Public Advocates in Community Re-Entry (PACE). "This walk and celebration is in recognition of national recovery month," she said.
Mentors and mentoring: In addition to promoting and offering shadow days to anyone interested in seeing the day-to-day of being a legislator, last year she started an internship program for the Indiana Black Legislative Caucus for Black law students to assist with policy research.
Work/life balance: "One calendar, one world. I allocate time for events, meetings, calls, tasks, family/friends, etc. If it's not on my calendar, it does not happen. Sunday is reserved for spiritual growth, renewal and family time."•
Check out more Women of Influence honorees.
Please enable JavaScript to view this content.