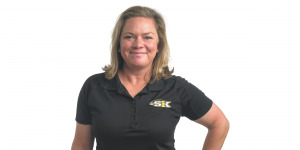 CEO, SFH Racing, Speedway Indoor Karting, Whiteland Raceway Park, Business Art & Designs and Metal Fabricators Plus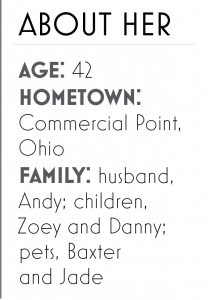 Achievements: Sarah Fisher O'Gara is best known for her achievements in IndyCar. In 2000, she became the third woman in history to drive in the Indianapolis 500 and subsequently made nine appearances in the race. And in 2001, she became the first woman to run a full IndyCar Series schedule. In 2008, when she founded Sarah Fisher Hartman Racing with her husband, Andy O'Gara, she became the first female owner/driver in the IndyCar Series. She retired from racing in 2010 but served as IndyCar's pace car driver for races in 2016, 2017, 2019 and 2020. In 2016, the couple opened Speedway Indoor Karting in Speedway. And she was part of a group of former team owners that purchased Whiteland Raceway Park, which reopened in 2018. Then in October 2020, Fisher O'Gara and her husband opened Speedway Indoor Karting in Daytona Beach, Florida. In 2021, the couple sold the building that houses the Speedway Indoor Karting complex in Speedway to Turner Woodard, which has allowed them to grow their business. "We have been able to launch several new projects and businesses to create and fill new employment opportunities that have helped better the lives of the individuals we've been blessed to work with," she said. In May, she was the pace car driver for the 106th running of the Indy 500.
Career track: "My whole life has revolved around racing," she said. "From my mom and dad meeting at a go-kart race, then starting to drive at 5 years old, to growing up racing sprint cars and midgets, to then getting an opportunity to drive at IMS. It has all been an incredible journey!"
Giving back: She serves as the chair of the board of the 500 Festival and is on the Capital Improvement Board in Indianapolis. "It is an honor to help contribute in ways that have a positive impact on the community and support our great city and state," she said.
Mentors and mentoring: She said she doesn't focus on one person. "There are lots of little kids and families trying to break into racing," she said. "Our own family has made it a priority to grow our Whiteland facility to continue and grow to be a non-intimidating and family-friendly place to get started. We want to be an incubator for our sport."
Work/life balance: "I think about my time and how my kids would perceive what I'm doing to justify if it's worth doing," she said. "Then I share what it is that has my attention at that time instead of them and why that's important."•
Check out more Women of Influence honorees.
Please enable JavaScript to view this content.