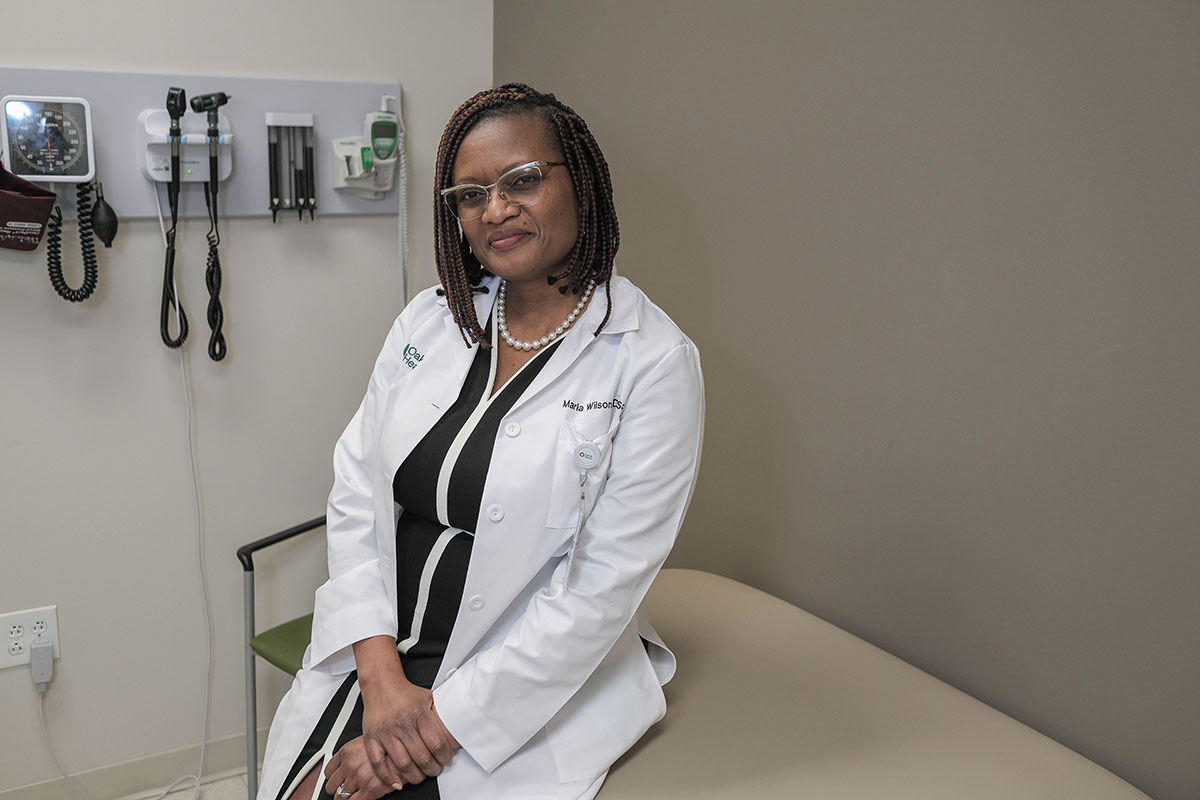 Honoree, physician
Dr. Maria Wilson
Executive Medical Director, Oak Street Health
As executive medical director of Oak Street Health, a national network of health care clinics for Medicare patients, Dr. Maria Wilson is responsible for growing and expanding the company across several states, including Indiana, and oversees a large team—all while continuing to practice medicine. 
She serves Medicare patients in central Indiana at one of Oak Street's eight Indiana centers. 
"For Dr. Wilson, spending time with her patients reminds her why she dedicates so much of her time to what she does," Erica Frank, vice president of public relations, wrote in her nomination. "In her eyes, patient care is never about a diagnosis or a condition, but rather about the relationships she creates and the trust that results."
Wilson didn't grow up dreaming of being a doctor, in part because it never occurred to her to be a doctor. She had never seen a Black female doctor. So she went to college with the intent of becoming a special education teacher. 
Her husband went on to medical school, and she jokes that she followed him.  
She said her story shows representation matters. But in teaching her patients how to best take care of themselves, she feels she didn't stray too far from her original plans. 
Wilson completed her internal medicine residency at the Indiana University School of Medicine. After that, she worked for Wishard Hospital, which is now Eskenazi Health. And then later, she worked for Ascension St. Vincent at the Center for Healthy Aging—a gig that sparked her interest in treating geriatric patients.
Six years ago, she started with Oak Street Health as a clinical physician and worked her way up to
executive medical director.
Wilson said she made the leap to Oak Street because she felt traditional fee-for-service medicine wasn't allowing her to give the time her patients needed. 
"Oak Street was a place that kind of spoke to how I wanted to practice medicine," she told IBJ. 
How often she sees patients now varies depending on her schedule. But she said on days she treats patients, that's all she does. 
"The most fun I have in any week is the days that I do see patients. That makes everything else worthwhile—the actual patient care," she said. 
Wilson has helped make Oak Street Health a model of relationship-based care in Indiana, her nomination states. 
"Dr. Wilson is an advocate for the practice of actively listening to the community she serves because she knows that through listening, she is able to better care for and build trust with her patients," it reads. 
And with her leadership, Oak Street Health has achieved positive clinical outcomes and patient satisfaction. The organization at large has seen a 51% reduction in emergency department visits and in-patient hospital admissions compared to the
Medicare benchmarks.•
Please enable JavaScript to view this content.