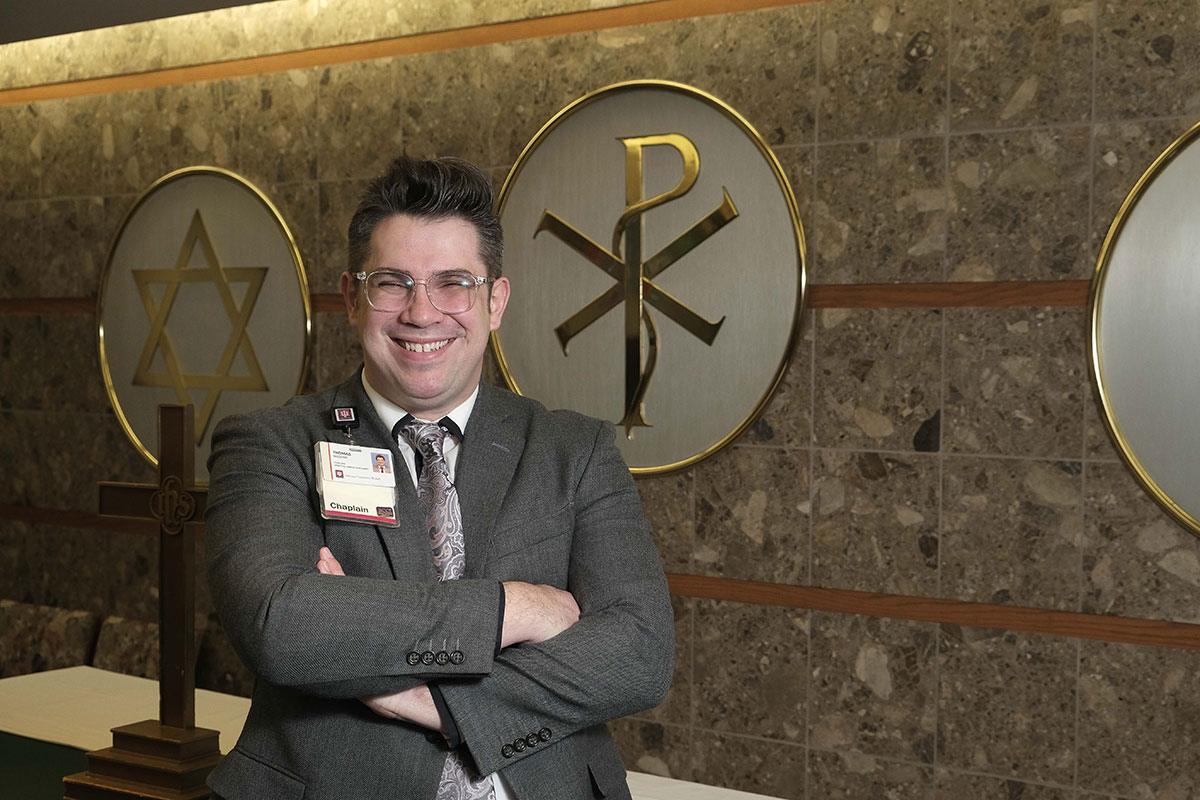 Top honoree, Non-physician 
Thomas McDorr
Trauma Services Chaplain, Indiana University Health Methodist Hospital
The tragic stage collapse at the Indiana State Fair in August 2011 changed the trajectory of Thomas McDorr's career. 
The trauma services chaplain at Methodist Hospital was a senior attending Indiana Bible College when he and his fiancé went to the fair to see Sugarland. 
The couple wasn't injured when the stage collapsed, and McDorr jumped into action to help others. Seven people were killed and dozens were injured when strong winds caused the stage to come down just minutes before Sugarland was expected to take the stage. 
"That was my first introduction to death, to suffering, to trauma," he said. "Leading up to that point, I'd never even been to a funeral or seen a dead body. Then all of a sudden, I was just surrounded by all of this trauma."
He was studying biblical studies and knew he wanted to be in ministry—just like his father, a pastor. He expected that would be in the church. 
"After that day, getting behind the pulpit—it just didn't feel fulfilling," he said. 
He spent the next five years or so "kind of wandering," trying to figure out what he wanted to do. 
"I kept going back to that moment at the state fair to see those people that were hurt and crying out to God," he said. "That mental image stuck with me." 
So he began researching ways he could help people and do ministry. He learned about clinical pastoral education and that IU Health has one of the largest CPE centers in the country. 
He had never heard of a hospital chaplain—he thought chaplaincy was reserved for the military or police—but he thought it might be the right job for him. 
He began an internship at IU Health in 2017 that was the launch of several years of education and learning, including a residency and fellowship. All led him to the position he's in today. 
"Here I am working with the trauma team at Methodist Hospital and just kind of full circle from where it all started," he said. 
In his job, he provides emotional and spiritual care to patients, families and even fellow staff members. As a trauma chaplain, he works with patients and families involved in car accidents, gun violence, natural disasters and more. 
In 2021, IU Health Methodist staff cared for more than 4,000 trauma patients; on average, the hospital treated more than 10 trauma patients a day.
"His mission is to connect with patients on a deeper level, to acknowledge the pain people are suffering—not just physically, but emotionally," Vice President of Spiritual Care Jay Foster wrote in his nomination for McDorr. "He serves as an imperative part of the healing process for patients, families and team members."
Over the past year or so, McDorr worked with his co-worker, Geovani Galvez, as Galvez recovered following a suicide attempt. 
Galvez, a patient financial counselor, tried to end his life in July 2021 but survived. McDorr was there when he woke up in the hospital.
"Thomas' guidance and reassurance with Geovani—like many of his patients—allowed him to connect back his worth and meaning as a person and father," the nomination states. "His dedication to offering support is relentless."
McDorr said chaplaincy is his calling. 
"I love being able to journey with people in the midst of their darkest days, in the midst of their suffering. … Even if I don't have a good answer for you, I can be there with you," he said. "To be that caring presence, that shoulder to cry on, that shoulder to lean on for patients and families—that's the best part of what I do."•
Please enable JavaScript to view this content.