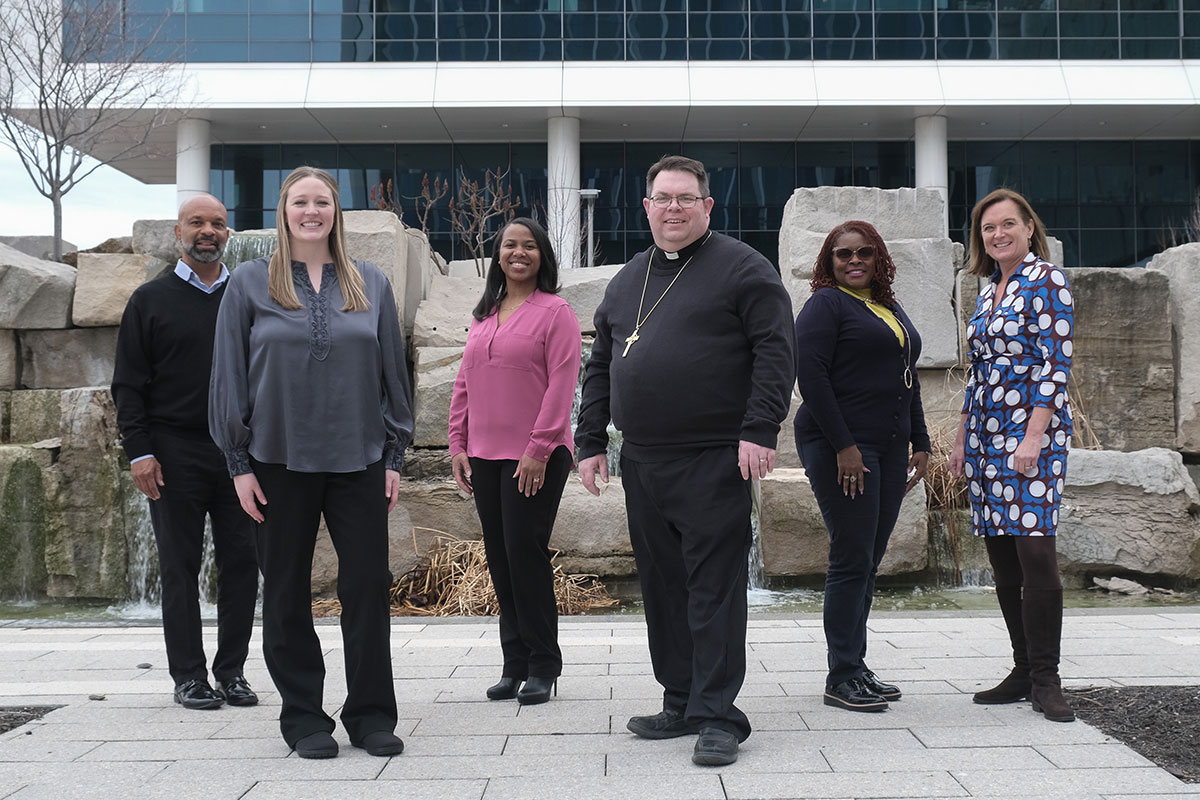 Honoree, Community Achievement in Health Care
Hoosier Heartland Healing Collaborative
Eskenazi Health
In 2015, Eskenazi Health internally launched whole-person self-care training for its employees through the Center for Mind-Body Medicine, an organization that helps communities around the world develop the tools they need to heal population-wide trauma.
After implementing in-house the mind-body medicine's model—which includes skills like meditation, guided imagery, breath work and self-expression—Eskenazi leaders began working to teach outside groups about it.
The collaborative, which was launched in 2020, is funded in part by the Herbert Simon Family Foundation. It offers self-care workshops to anyone facing a high-stress environment, whether that's professional or personal.
It was through one of those workshops that Eskenazi connected with social workers at Indianapolis Public Schools—which nominated Eskenazi for the award—about ways to help alleviate staff of psychological traumas and secondary traumas they experience at work. IPS began working with the Hoosier Heartland Healing Collaborative in 2020.
The collaborative is led by Father Robert Lyons, manager of the Eskenazi Health Center for Spiritual Care and Education, and Megan Hider, Mind-Body Program supervisor.
The program teaches participants how to use self-care and group support as tools for stress- and trauma-relief, along with how to build resilience.
Community members participate in two ways: through self-care skills groups and workshops or by going through a two-part training program to become a facilitator of the self-care skills groups. So far, the collaborative has trained more than 130 facilitators.  
Lyons told IBJ the pandemic led to many health care systems realizing they needed a solid self-care program for their employees. But what Eskenazi is doing is innovative because it's taking that program out of the hospital and into the community, he said.
"The end goal is to empower—whether it's the health care worker, the teacher, or Joe or Jane, anyone who walks into a group—to walk away from the group with some easy, accessible, fundamental skills that can be used in real time."
The Center for Mind-Body Medicine model is trauma-informed and can be used not just by adults but also by children as young as 4 or 5.
Hider said the basis of Mind-Body Medicine is taking time to breathe, to balance the nervous system, to meditate and to "really try to become the leaders and the healers of ourselves."
The Mind-Body Medicine workshops provide a gentle and compassionate way for participants to explore who they really are—trauma and all, Lyons said. Learning to self-regulate is beneficial to anyone and everyone, even someone who doesn't think they have mental health concerns.
"We do this because of the change it has made in our own lives," Lyons said. "I am not the same person I was when I encountered Mind-Body Medicine. Things in my life began to shift; connections that I had not made with my own story came into focus."•
Please enable JavaScript to view this content.