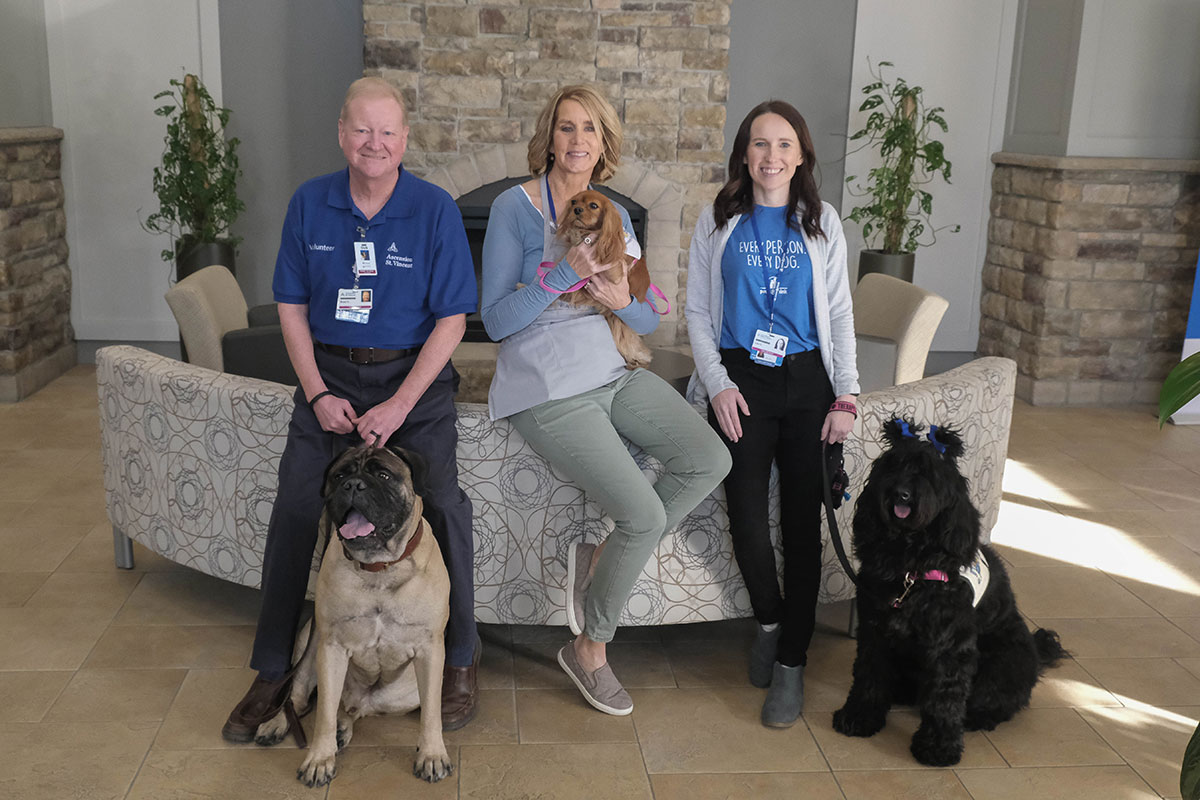 Honoree, Community Achievement in Health Care  
Paws to Heal, a Paws to Think program
Ascension St. Vincent
For five years, Paws To Heal therapy dogs and their handlers have been making rounds at Ascension St. Vincent facilities, including Peyton Manning Children's Hospital.
Paws To Heal is a program of Paws & Think, a not-for-profit that pairs therapy dogs with schools, detention centers, youth agencies and more.
Twenty-six teams visit with patients, families and associates at Ascension St. Vincent facilities, including the Stress Center, Seton Specialty Hospital, the women's hospital and the main campus. Last year, they averaged more than 70 visits a month, touching the lives of more than 10,000 people.
"Studies show that interacting with dogs can help lower blood pressure, heart rate and stress levels," Dorothy Hitchins, manager of support and volunteer services at Ascension, wrote in her nomination. "Visits with a therapy dog can provide motivation, education and therapeutic benefits to enhance a patient's quality of life."
The team is led by Lisa Gupton, who visits Peyton Manning with her goldendoodle, Lulu. 
Gupton said most of the teams visit the hospitals two times a month, but some volunteer weekly, spending an hour to 90 minutes visiting with anyone who asks.
Outside of those visits, the dogs also participate in Project R.E.A.D, a school program through Ascension St. Vincent for patients experiencing reading delays, and Code Lavender, a partnership with the spiritual care team that provides support and crisis intervention for associates to help process events after major losses or particularly traumatic events. 
Gupton said she became involved with Paws To Heal after seeing the impact therapy dogs made on her own family when her son spent five years in and out of Riley Children's Health for an autoimmune disorder. 
"We saw the benefit of how it can really turn your day around," she said. "It literally makes you happy."
Over the Christmas holiday, Gupton and Lulu stopped by the hospital and visited with a little girl who had just had emergency surgery. Lulu got up on the girl's bed, and the girl folded herself over the dog and started sobbing.
Gupton said you could feel the stress and fear leave her body. 
"It was just so good," Gupton said. "This is the best job ever."
And every time she and Lulu visit, they have a similar experience. 
Another little girl was recovering from an infection and just needed to get out of bed and take a walk to be able to be discharged but hadn't yet. 
She was lying with Lulu when she asked to take the dog for a walk. Lulu was the motivation she needed to try to get out of bed.
Hitchins said the dogs are making a meaningful difference.
"Paws to Heal teams directly impact people, creating meaningful experiences that change perceptions, provide opportunities for growth and healing," Hitchins wrote. "The impact, agility and dedication made by Paws to Heal in health care settings impacts the wider community."•
Please enable JavaScript to view this content.