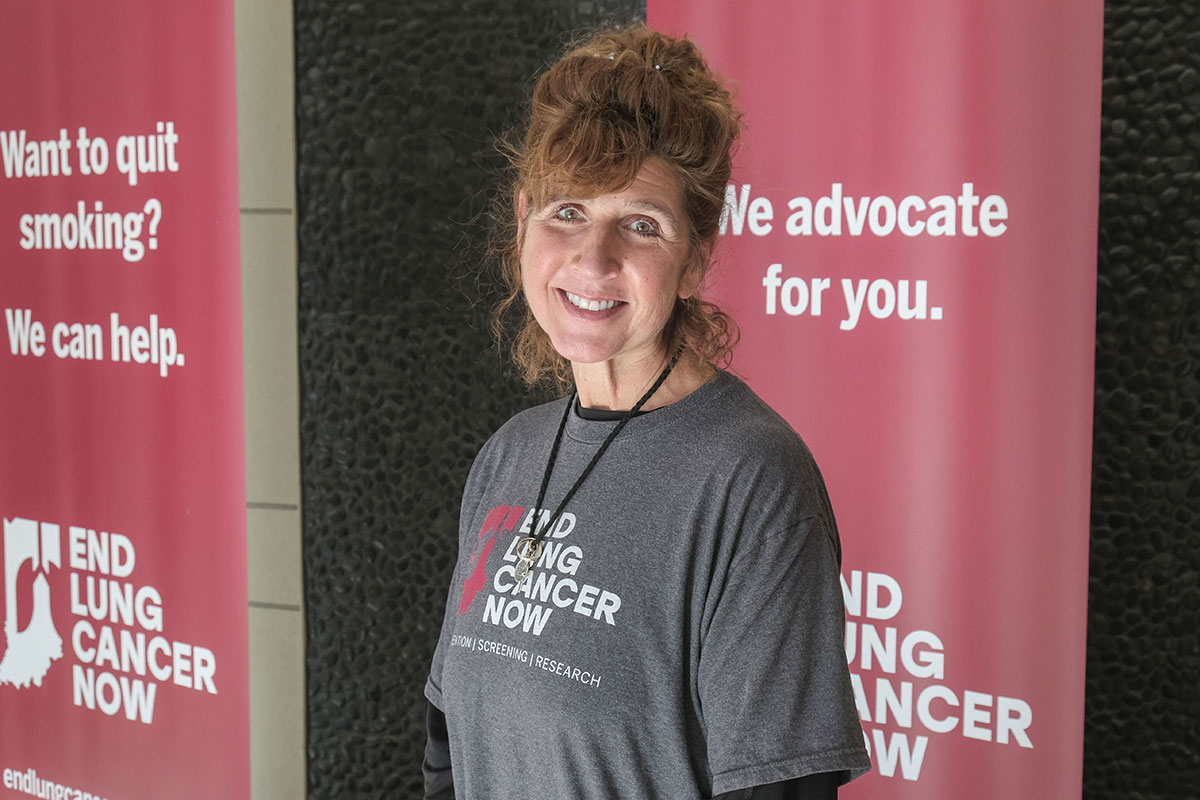 Top honoree, volunteer 
Elyse Turula,
Volunteer, End Lung Cancer Now Advocate
Indiana University Melvin and Bren Simon Comprehensive Cancer Center
When Harry Turula was diagnosed with lung cancer in March 2016, the Indiana University Melvin and Bren Simon Comprehensive Cancer Center became a second home to him and his wife, Elyse Turula. 
Harry fought the disease for 20 months until he died in October 2017, shortly after his 62nd birthday.
The couple spent a lot of time at Simon and tried to make the most of it. Harry had to be hospitalized a few times, and his room was where everyone congregated. There was lots of laughter. 
"We really had more fun than two people should be allowed to have at Simon Cancer Center," Elyse Turula told IBJ. "Harry had a joyful spirit."
Shortly before Harry died, Elyse stopped by the Cancer Resource Center—a place she walked by 1,000 times and had never noticed. It planted the seed for her volunteerism. 
"I knew that, when Harry died, that I wanted to remain a part of Simon," she said. "It just felt like home. It is home."
Turula filled out paperwork to become a volunteer in December 2017 and became official the following February. She's done anything and everything that's been asked of her since.
"Nothing was too big nor too small," Dr. Nasser Hanna, the Tom and Julie Wood Family Foundation professor of lung cancer clinical research at the center, wrote in his nomination. "It became clear to me that Elyse was cut from a different cloth."
Turula said that, as she has spent more time at the cancer center, more opportunities have opened up. 
In 2021, the cancer center's community outreach and engagement office launched an initiative called End Lung Cancer Now. Its vision is simple: Eliminate suffering and death from lung cancer in the state by eliminating tobacco use, increasing lung cancer screenings and enrolling more patients in clinical trials.
Turula is the "heart and soul" of the effort, Nasser said. 
"To say she is an 'uber volunteer' would be to greatly understate her impact. She is the inspiration, energy and lifeline of our work," he said. 
As the advocate committee chair for the initiative's board, she's a key member. And she serves as lead volunteer for all events the initiative hosts. 
She also serves in small and quiet ways: picking up supplies for an event in Harry's 2005 Ford F-150, as a friendly face in the resource center for patients and families, or by making white ribbons of wood to be displayed in the yards of patients, caregivers and more.
In the hospital cafeteria recently, she met the wife of a patient undergoing surgery. By the time surgery was over, Turula had already put together an End Lung Cancer Now care package and delivered it to the patient's room. She then sat with the family to share stories and exchange contact information. They now engage weekly. 
Nasser said Turula is joy and inspiration to many patients and their families as they travel their cancer journey "not because she must be but because she wants to be." 
"It is her calling," he said.
Turula calls herself a full-time volunteer. On Wednesdays, she spends a full day at the Cancer Resource Center. On Mondays, she participates in a support group. Then there's the planning lunches and the calls and emails.
"There's not a day that I'm not involved," she said. "The more I pray on this, the more I see that it is
a vocation."•
Please enable JavaScript to view this content.