Indiana Seed Fund I invested in its first company five years ago, but not until last month did that company receive U.S. Food and Drug Administration clearance for a product.

"It takes longer than anyone can imagine," said David Johnson, president and CEO of Indiana life sciences group BioCrossroads, which oversees the fund.

Having invested in 10 companies since 2005 and with its $6 million pot of money running low, the Indiana Seed Fund is nearing a crossroads of its own.

Will it raise a follow-on fund?

Discussions are expected to intensify this year at the not-for-profit BioCrossroads about such a follow.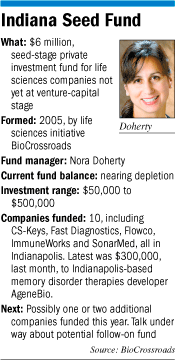 "It's named Indiana Seed Fund I, so there certainly are aspirations for us to continue," said Nora Doherty, managing director of the fund.

Johnson declined to predict a target size, but said the strategy of a follow-on fund probably would differ due to changing market conditions. Fund recipients have enjoyed expertise provided by volunteers wanting to see promising life sciences firms succeed, although it's not clear free or low-cost advice could be sustained in the future.

A case could be made for a follow-on, however.

None of the 10 firms in which Indiana Seed Fund has invested have failed, despite the worst economy since the 1930s. And last month the fund's first investment, Indianapolis-based SonarMed, won FDA approval of its airway monitoring system for patients requiring ventilators.

Indiana Seed Fund and SpringMill Venture Partners were two of SonarMed's initial investors.

"It's a significant milestone both for their company and our fund," Doherty said last month.

Typically, the seed fund issues a convertible debt instrument that can be converted into equity once a company gets additional funding, such as from a venture round or through a partnership with another firm.

Several of the fund's recipients have already received venture funding. Among them is Indianapolis-based CS-Keys, which creates cancer-specific biomarkers for diagnostic and therapeutic applications.

In 2008, CS-Keys received $6.25 million of series A financing from venture firms including locally based Clarian Health Ventures.

"In that sense that proved this [seed fund] concept for us," Johnson said.

The concept has also been reinforced by the progress fund recipients such as Indianapolis-based ImmuneWorks have had moving to the next stage of funding.

ImmuneWorks, which sprung from research at the Indiana University School of Medicine, is working on drugs to treat Idiopathic Pulmonary Fibrosis, a terminal lung disease that felled such people as daredevil Evel Knievel and actor Robert Goulet.

In February, ImmuneWorks announced it inked a development agreement with Maryland-based LungRX, to help fund clinical testing. LungRX also received an option to acquire all of ImmuneWorks' outstanding capital stock.

"Now they essentially have the source of capital they need," Johnson said.

Whether Indiana Seed Fund will tap out its remaining funds this year remains to be seen.

"I hope we see another one or two [companies funded] yet this year," Johnsen said.

The latest firm backed by Indiana Seed Fund—to the tune of $300,000, last month—was Indianapolis-based AgeneBio.

The firm was founded by Johns Hopkins Hospital researcher Michela Gallagher, who was studying an area of the brain that becomes overactive before the onset of Alzheimer's disease.•