Cheetahs: Race for Survival" is a terrific addition to the Indianapolis Zoo, even though its primary selling point can't actually be seen.

That selling point is speed. And the marketing push by motorsports star Tony Stewart and the remarkable "0-70 in three seconds" ability of these beasts would naturally lead visitors to believe they are going to see some dust kicked up and land/speed records challenged.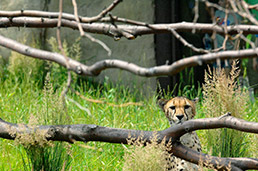 The Indianapolis Zoo's new cheetah exhibit features five of the namesake animals in spacious enclosures that allow visitors to get up close and personal. (IBJ Photo/ Perry Reichanadter)
While the well-designed enclosures (a section for the two males and another for the three females) feel spacious by zoo standards, hunting isn't part of the program. Instead of watching these cats pursue their meals, visitors must be satisfied to view the cheetahs in less intense mode. That's not to say they're mellow. The main viewing kiosk allows for nearly face-to-face encounters with the females, who reveal a grace and power in their confident strides. This makes it easy to imagine what they are like in full-speed-ahead mode.

The only species you are likely to see running at full speed is Man. The exhibition includes a fun interactive racetrack where, for a charitable 50 cents (which goes to the Cheetah Conservation Fund in Namibia), kids can run a straightway and learn how quickly a cheetah would overtake and, presumably, devour them. Fun fact: Cheetahs have to rest about a half hour after catching their prey, which leads to much of their bounty being raided by other animals before they can have some for themselves.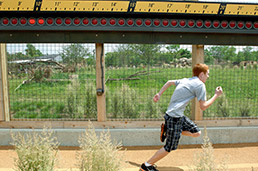 For 50 cents, zoo visitors can run a straightaway and see how quickly a cheetah would overtake them. The fee goes to the Cheetah Conservation Fund in Namibia. (IBJ Photo/ Perry Reichanadter)
This and other bits of info are provided on explanatory boards whose illustrations look like those animated, real-people ads for E-trade.

For comic relief—and additional color and context—the cheetah area in the Plains biome includes a quartet of charming species native to the same region. Squawking Yellow-billed Hornbills, cool-coiffed African Crowned Cranes, pudgy Guineas, and Bat-eared Foxes may hold your attention as long as the cheetahs do.
__________

"Mundanities," the latest offering from the Indy-based artists collective Know No Stranger, found an enthusiastic audience at the Central Library May 26.

By turns inspired and tedious, the show mixed a tired plot (guy breaks off from his housemates/bandmates to try his hand at the corporate world) with some inspired visuals (including projected advice from the head of Michael Jackson).

Peppering this foray into musical comedy with well-played, catchy (if redundant) songs in the spirit of the Freecreditreport.com commercial guys, the Know No Strangers gang sends a clear message that everyone is welcome to their party. That sometimes plays well (as in a closing-show sing-along), but elsewhere leads to a stage overcrowded with cast members fishing for lines and places to go. If this were an improvised show, it would be easier to make allowances for the rough spots.

The women in the cast—at least those on stage—have remarkably little to do, giving it a boy's club vibe.

Still, I applaud groups that actually get their heartfelt work produced. The applause comes with the hope that, in future shows, the company finds a way to have its eyes on both its mission as a collective and the overall effectiveness of its presentation. If so, we could be seeing the beginnings of a company capable of producing work in line with such recent groundbreakers as "Avenue Q" and "Urinetown."
__________

Sometimes, an idyllic theatrical moment can go a long way. That's the case, for me, with "Speech and Debate," Stephen Karam's play getting its Indiana premiere at the Phoenix Theatre.

Telling of three high school outcasts using the title extracurricular activity to expose grown-up indiscretions, the production is oddly paced, with energy-draining time spent with minor scene changes, allowing too much time to contemplate the holes in the plot.

Still, when Diwata (Kelli Johnson) breaks into song on her live blog and the two guys who may compose her entire audience kick in with harmonies from each of their respective bedrooms, the result takes a funny scene into the realm of beauty.•
__________

This column appears weekly. Send information on upcoming A&E events to lharry@ibj.com. Visit www.ibj.com/arts for more reviews, previews and blog posts. Twitter: IBJarts