An exhibit on handgun engraving was one of the most heavily attended exhibits in the history of the Eiteljorg Museum of American
Indians and Western Art.
The Eiteljorg reports that "Pistols: Dazzling Firearms," which ran from Feb. 6 to April 18, resulted in a 50-percent
increase in attendance over the same period in 2009.
The attendance was a 16 percent increase over 2008.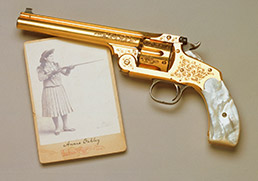 (Photo
Courtesy Eiteljorg Museum)
The exhibit explored more than 160 years of handgun decoration in America and included pistols owned by Annie Oakley, "Wild
Bill" Hickok and Tom Mix.
The museum says "Pistols" represented its first step in an initiative to attract new visitors through more engaging,
interactive experiences. The exhibit featured an actor portraying Annie Oakley and modern-day engravers showing off their
craft.
Now on display is "Generations: The Helen Cox Kersting Collection of Southwestern Arts." Also coming this year
is "Jingle Rails: The Great Western Adventure" and "Arte in la Charreria" about Mexican horse culture.

 
Please enable JavaScript to view this content.