Workers are restoring façades on two long-vacant buildings along Washington Street just east of Meridian Street as
part of a retail and residential redevelopment.
The project calls for the conversion of the seven-story McOuat Building at 14 E. Washington St. and the adjoining building
at 10 E. Washington St. into retail space and apartments.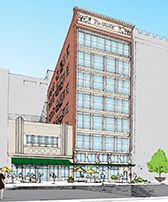 Restoring life to two vacant buildings will be a big boost to Washington Street. (Rendering courtesy Summit Realty
Group )
The developer, Uptown Realty Investors, is led by Summit Realty Group principals John Demaree and Bill Ehret.
The first phase calls for repairs to a cast-iron façade and new windows for the 1901 McOuat Building. Removal of metal
panels on the other building have already revealed long-hidden Art Deco detailing.
The McOuat Building will have room for between 20 and 22 one-bedroom loft apartments on floors three to seven, Demaree said.
Available retail spaces on the first and second floors will range from about 3,600 square feet to about 15,500 square feet.
There was no price estimate available for the project, which will be dubbed McOuat (Mc-Coo-it) Place. A portion of the cost
of the façade renovation is being paid for with a façade improvement grant from the Local Initiatives Support
Corp.
The brokers also own the vacant lot to the immediate west of the properties. They began acquiring pieces of the property
about a decade ago, when they bought and demolished the first two buildings. In 2007 the pair began working on plans to build
a 10-story structure, a move that would have required demolition of the low-rise former home of H&H Mart, but that deal
fell through in 2009.•
Please enable JavaScript to view this content.