Lisa Freiman, director of the Indianapolis Museum of Art's new sculpture park, hopes that publicity and critical acclaim
will turn into future financial support for the contemporary art collection.
"There's a misconception in the public that museums are wealthy, self-sufficient entities," Freiman said. "Where
we really have to work extremely hard is at the core of our mission, which is collecting and doing educational programming."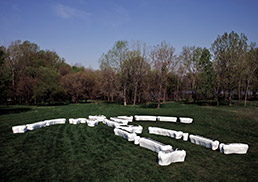 Atelier Van Lieshout's "Funky Bones" is part of the outdoor gallery at IMA's Virginia B.
Fairbanks Art and Nature Park. (Photo courtesy Indianapolis Museum of Art)
The outdoor gallery, called "100 Acres: the Virginia B. Fairbanks Art and Nature Park," features eight works commissioned
especially for the site on a White River flood plain and former gravel pit adjacent to the museum's main campus. Freiman
believes the concept behind the park is unique. Rather than hosting permanently installed sculpture or regularly scheduled
special exhibits, works will rotate on a fluid basis.
The museum raised $25 million for the construction and to set up a $15 million operating endowment. The initial budget also
included $3.6 million for artist commissions. That created quite a buzz, Freiman said.
"It allows us to play a leadership role by commissioning new works by interesting artists at different stages of their
careers," she said.
The park's grand opening is scheduled for June 20 following an opening-night party and a members-only VIP preview with
artists and architect on June 19. Admission to the park will be free after it opens, but admission to the party is $80 and
tickets to the VIP preview, which includes the party, are $125.
The museum originally hoped to open the park last fall but delayed it due to the poor economy. The museum also scaled back
the budget, originally $50 million. A 1,500-foot elevated bridge and an education building were cut from the original plans.
Even at this point, not all of the $25 million is cash-in-hand. The operating endowment, provided by the Fairbanks Foundation,
is about $11 million with the remainder to come from estate gifts. That means the museum will have to hold down spending on
maintenance and new art works for the time being, Freiman said. Future spending on commissions was always intended to be more
modest than in the inaugural year, she added. One new project, which will be named in the fall, will be installed in 2011.
More information on the park and opening-day events can be found here.
Please enable JavaScript to view this content.