The ever-evolving Indy Jazz Fest will return this year, Sept. 18, but at the Opti-Park in Broad Ripple.
In late 2008, local jazz pros Al Hall, David Allee and Rob Dixon took over the flagging 10-year-old festival from the American
Pianists Association and ran it as a for-profit enterprise under Indy Jazz Fest LLC.
Well, the event isn't profitable yet, but Hall and his partners aren't giving up.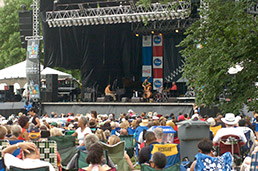 Last
year the Indy Jazz Fest attracted 10,000 fans to White River State Park. (IBJ File Photo)
"It's more of an obligation than it is anything else," he said.
The major change this year is moving from The Lawn at White River State Park, a venue run by Live Nation. Cutting down venue-management
fees could help the festival break even, Hall said.
Attendance over the two-day festival last year was less than 10,000, he said. The festival's local organizing committee
hopes to exceed 10,000 this year, though Hall said they haven't decided yet whether to add a second day.
Owner of the Owl Studios record label, Hall tried last year to keep the lineup pure with Branford Marsalis as the headliner.
Now he's on the hunt for a name that will boost attendance.
"We're looking for a household name that hopefully will cross over from jazz into other areas," he said.

 
Please enable JavaScript to view this content.