Circle Centre mall, the herculean development effort widely credited with launching downtown's rebirth, will be 15 years old in September.
The key to a Sweet 16th could be finding a way to hold onto anchor stores Nordstrom and Carson Pirie Scott. Deals for both the 210,000-square-foot Nordstrom and the 144,000-square-foot Carson Pirie Scott, originally a Parisian, are up for renewal in the coming months.
Officials at locally based Simon Property Group Inc., which developed the mall and owns about 15 percent of it, are leading the negotiations with Seattle-based Nordstrom Inc. and York, Pa.-based The Bon-Ton Stores Inc., parent of Carson's.
Meanwhile, city officials are preparing to step in and do whatever it takes to ensure the mall anchors remain, said Michael Huber, deputy mayor for economic development.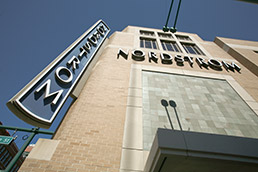 Keeping Nordstrom is critical for Circle Centre mall, former Mayor Bill Hudnut says. (IBJ Photo/ Perry Reichanadter)
"Keeping Carson Pirie Scott and Nordstrom and a healthy, functioning mall is of critical importance," Huber said. "We're fortunate with the management of Simon Property Group the mall is doing as well as it is at a time when many downtown malls are not."
Huber said he wasn't sure exactly when the department store deals are up for renewal, but believes it's next year.
It isn't clear what incentives the city might offer since Simon has not yet made a request; the city originally enticed Nordstrom to open in the $319 million mall by offering a new building and tenant improvements at no upfront cost to the retailer. How much Nordstrom pays in rent is not spelled out in publicly available documents. Carson's occupies part of the first three floors of the former L.S. Ayres flagship department store.
Anchor tenants are considered paramount to attracting shoppers to a mall's smaller stores, so advantageous deals are not unusual.
Sitehawk Retail Real Estate principal Mark Perlstein said he's confident Simon will secure a renewal of the Nordstrom deal.
"I would be very surprised if Nordstrom closed that store," he said. "I think it's a good store for them."
Carson's could be another story, Perlstein said. The fact that it's the chain's only store in the market makes it inefficient for advertising purposes. And if the store departs, it could make way for another retailer such as Target or Best Buy to finally penetrate a downtown market they've been eyeing for years.
Nordstrom spokesman Colin Johnson said the store's operating covenant, an agreement that requires the store to stay open for business, will be up for negotiation soon. But he said it's not unusual for the chain to run a store without such an agreement.
"We love serving our Indianapolis customers and there's been no change in the status of our downtown store," Johnson said in an e-mail.
Officials with Simon and Bon-Ton did not respond to IBJ questions for this story.
It was Simon's relationship with the upscale Nordstrom that brought the store to Circle Centre back in 1995, said former Indianapolis Mayor Bill Hudnut, a key figure in the mall's development.
Circle Centre—and its anchors—have supported the city's core, bolstered the convention business, provided jobs, and inspired other investments downtown, he said.
"It might be the equivalent of losing the Pacers if we lose Nordstrom," Hudnut said. "To my thinking, the mall is one of the linchpins of the whole downtown, and Nordstrom is the mall's linchpin."
Circle Centre already has beaten the odds by escaping the fate of other similar downtown mall projects, including one in Columbus, Ohio, which are plagued by vacancies and a failure to retain anchor stores.
The downtown Indianapolis mall generated a profit of $8.9 million last year on revenue of more than $23 million, records show. Occupancy held steady in 2008 and 2009 at 92.8 percent, excluding the troubled fourth floor, which is only 59-percent occupied.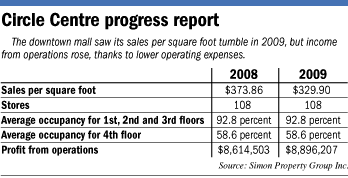 The vacancy-plagued fourth floor—most of which Simon still hopes to convert into office space—isn't the only troublesome issue for the 790,000-square-foot mall. Circle Centre's $330 in sales per square foot for stores under 10,000 square feet in 2009 is well below the $433 average across Simon's 382-mall portfolio.
And the two-year drop in sales per square foot at Circle Centre has been dramatic: The figure fell almost 19 percent from 2007 to 2009, from $406 to $330, outpacing a drop of 12 percent across the entire portfolio.
Simon provided the figures in an annual update on the mall's performance to the city, which owns the land under the structure and paid more than half the cost of building the mall.
The building itself is owned by a partnership of 20 mostly local companies, including Simon. The ownership group holds a mortgage note that matures in 2013, with a balance due of $66 million.
In its report, Simon blamed "weak economic conditions" and low consumer confidence for Circle Centre's drop in per-square-foot sales.
One reason Circle Centre was hit so hard is that about 50 percent of its shoppers are visitors to the city, and business and leisure travel is suffering, Simon said. The company said the expansion of the Indiana Convention Center, under construction now, should lead to an improvement in mall sales.
The figures do not break out the performance of anchor stores, so it wasn't clear whether Nordstrom's new store at The Fashion Mall at Keystone, which opened in September 2008, has drawn significant amount of traffic away from the downtown store.
Having a second Indianapolis Nordstrom was a big enough concern for the mall developers back in the 1990s that they extracted an unusual concession from the company: that it would wait at least five years before opening another Indianapolis-area store.•
Please enable JavaScript to view this content.